Government Contracts Consultants
Nationwide Federal Government Contract Consulting Services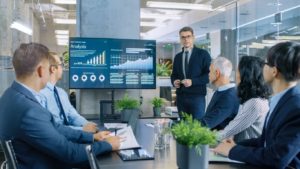 Government contracts consultant firm helping our clients avoid some of the most costly legal and compliance mistakes seen with small businesses and large DOD contractors.
Compared to the Competition, Who Can Only Advise, Our Government Contracts Consultants Are Also Lawyers and Who Focus on Keeping You Compliant and Away from Criminal Liability.
Our team of government contracts consultants is here to offer you the help you need to stay out of legal trouble. We have extensive experience working for actual government contracting agencies and with contractors throughout the United States and overseas, and we know how to help you succeed in the competitive world of government contracts.
With our expert guidance and support, you can focus on what you do best – delivering high-quality products and services to your government clients. We'll take care of the rest, ensuring that you stay compliant with all regulations and requirements and avoid costly legal issues.
Don't wait any longer to get the help you need. Click here now to learn more about our services and start working with our team of experienced government contracting consultants today!
After the Award of Federal Contracts, the Difficult Part of Compliance and Avoiding Legal Liability and Criminal Investigations Begins. The Department of Justice, OIG and other federal law enforcement agencies seek out companies that fail to perform oversight and implement compliance programs. 
We help clients avoid the most costly mistakes seen in government contracting

Learn to develop internal policies and controls to monitor your processes

Learn to build the proper relationships to reach larger federal contracts.
According to the DOJ, the Justice Department obtained more than $5.6 billion in settlements and judgments from civil cases involving fraud and false claims against the government in the fiscal year ending Sept. 30, 2021. 
Develop Internal Policies and Controls
As a federal government contractor, you have to develop internal policies and controls that not just make your company profitable but also stay out of trouble. As you aim to improve your company's success and deal with adverse agency decisions, you need government contracting consultants who understand the rules, where your company is going, and how to minimize adverse decisions.
Nationwide Procurement Consultants for small businesses and large DOD contractors: Watson & Associates' federal contract consultants come from various backgrounds. We pride ourselves in providing help with government small business matters, Federal Acquisition Regulation (FAR) compliance and helping companies to develop unique marketing approaches. The ability to avoid law enforcement intervention separates successful companies from those that make millions but suddenly get termination dues to violations of the not-so-obvious regulations. We represent clients throughout the United States and overseas.
Government Contract Consulting for US Companies and Overseas
The amount of compliance and legal issues that arise when performing government contracts can be burdensome. When one issue arises, a solution could entail other FAR clauses or SBA regulations. At Watson, our federal contract consulting involves the expertise of lawyers and former contracting personnel. We believe that without legal experience our clients only get half of the solution.
 As one of the top government contract consulting firms, we understand federal small business programs and how violations of the rules can impact your bottom line as a small business or fortune 500 company. By utilizing our government contracts consulting services, you can: 
Minimize and reduce exposure to criminal liability and fines

Get help with federal small business matters

Avoid terminations for default or debarment

Implement sound compliance programs
Government Contract Consulting Focus Areas
With the consistent changes in federal procurement law and criminal indictments of federal contractors, we have a broad range of issues that seem to be in popular demand in the federal marketplace. As government contract consulting professionals, we frequently help clients with issues such as:
Business development and effective marketing strategies

Statutory interpretation and FAR compliance
SBA programs and small business size protest issues

Joint venturing, Mentor Protégé, teaming and subcontracting matters 

Internal Controls and Policy Development

DOD Contract Novations and Corporate Structuring

Agency Investigations & Internal Government Contract Compliance Investigations

Cure Notices and Show Cause Responses

Litigation and appeals assistance

Legislation, Policy, and Realignments

SBA regulations and government relations services
Government investigations and procurement fraud 

Contract Disputes Act  matters

Contractor business ethics
Watson's government contract consultants and legal professionals are known as one of the top government contracting consulting firms that take a new government contractor from the basic contracting and compliance requirements through complex litigation and relationship building. 
Small Business Program Consulting Services
Watson also provides federal government contracts consulting services for the various agencies on matters related to building the bridge between the agencies in the public sector. See New SBA Rules. This includes best practices when it comes to market research, performance-based contracting, CPARS and claims avoidance. Our  government contractor consulting services include: 
Teaming agreements

Joint venture arrangements

Mentor Protege relationships

Limitations on subcontracting 

SBA size standards and affiliation
Watson & Associates' government contractor advisors and consultants can also provide federal contract advisory and assistance services to the Small Business Administration and fill in training and business consulting shortages. There is a nationwide concern about procurement positions and the ability to perform small business training for companies nationwide.
Contractor Business Ethics
As one of the top government contracting consulting firms, Watson & Associates' federal contracting consultants also help companies in both overseas and domestic locations to develop or revamp their internal policies and controls. This includes contractor business ethics training and the development of ethics programs. Call our federal procurement consultants today for immediate help.
Merger Acquisition Consulting and Help for Those Who Have Government Contracting Business for Sale
Our government procurement consulting group offers proven and reliable business consulting for those looking to sell or acquire an existing business in the federal government contracting sector. We help by providing detailed due diligence and compliance considerations.
Our team of experienced government contract merger acquisition professionals is here to assist you in making a profitable decision. Contact us today to learn more about our services.
 Government Contract Compliance Consulting
Our government contract consultants help clients with FAR and DFARS. compliance, flow-through contract clauses and more. When federal law enforcement conducts government investigations, we provide contractor consulting on responses and or litigation support. 
When contract disputes cannot be resolved amicably, the issue may have to resort to litigation. Watson's government compliance consultants and procurement litigation support professionals work with companies to discuss any available remedies and how to take the next steps.  As a government contracting consulting firm, we often help traditional non-governmental lawyers through the litigation process either directly or as outside counsel.
Call Watson's Federal Contract Consultants 
Speak with our acquisition professionals at our government contract procurement consulting providers and get more information about our government contracts consultants by calling Toll-Free 1-866-601-5518.