SBA HUBZone Qualifications & Certification Lawyers & HUBZone Application Consultants
SBA Attorneys and Consultants Helping Contractors to Avoid the Most Dangerous and Costly Mistakes in the HUBZone Certification. Nationwide Help. 1-866-601-5518.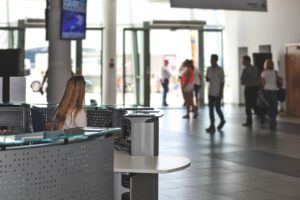 The Historically Underutilized Business Zone (HUBZone Program) is widely used by federal contracting agencies to award set-asides and sole source contracts through the SBA.
However, the HUBZone certification application process takes more analysis than simply filling out forms.
If the information submitted on your HUBZone application is false, there could be criminal penalties assessed if your company gets a HUBZone contract with the federal government.
Having a HUBZone consultant to guide you through the application process and to provide insight after getting certified is essential to avoid criminal and civil liability.
You can find a lawyer at Watson & Associates, LLC, our small business lawyers and government contracts attorneys understand the dangerous and costly landmines that can get companies in trouble. In addition to consulting on the SBA HUBZone application process, our attorneys and consultants also offer help with the various nuances that companies face after getting certified. This includes challenges to a company's HUBZone status.
Getting SBA HUBZone Certified – What We Do
During the initial HUBZone application process, we analyze the documentation that supports the requirements of 13 CFR 126.This includes the small business status and principal place of business requirement. Simply having a location in the certified business zone is not enough to get HUBZone contracts. The SBA wants to see more.
We also consult as to whether the applicant meets the HUBZone employee requirements. These are all issues that are subject to legal scrutiny if the company is challenged in a bid protest after contract award.
Prompt response

Costs for small business advice at a fraction of what other law firms charge

You get the help of legal professionals that understand the HUBZone Program
HUBZone Application and Certification Qualifications Attorney Services
With law offices located in Washington, DC and in Colorado, Watson & Associates' government contract lawyers help clients to get HUBZone certified and provide post-certification legal and consulting services that include:
HUBZone Sole Source matters

Meeting HUBZone requirements
HUBZone Joint Venture help.

Federal small business consulting 

HUBZone contracts and Set-Aside matters

Appeals representation of HUBZone small business status

HUBZone qualifications for Teaming, joint ventures, and SBA affiliation.

SBA historically underutilized business consulting

SBA OHA appeals

Sole source business opportunities

SBA HUBZone business appeals to the federal circuit court.

Certificate of Competency and contractor responsibility matters.
For small business advice about HUBZone contracts or to schedule a free consultation with our experienced HUB Zone Certification attorneys and consultants, call Watson & Associates, LLC today toll-free at 1-866-601-5518.
HUBZone Qualifications 
Initial SBA HUBZone Small Business Application: Historically underutilized businesses must meet the statutory certified HUBZone qualifications to take advantage of business opportunities. Your initial SBA HUBZone application must show that (1) you are a small business under the SBA size standards; (2) the company must be owned and controlled at least 51% by U.S. citizens, or a Community Development Corporation, an agricultural cooperative, or an Indian tribe; (3) Its principal office must be located within a "Historically Underutilized Business Zone," which includes lands considered "Indian Country" and military facilities closed by the Base Realignment and Closure Act; and (4) At least 35% of its employees must reside in a HUBZone..
Bid protests and HUBZone qualifications and Set Aside bid protest litigation. Showing that your company meets the SBA HUBZone requirements under 13 CFR 126.6 can be a daunting process when your competition challenges the status of your company. Whether there is a traditional protest at the Government Accountability Office or SBA protest, Watson & Associates' law firm can help either as an intervenor or protestor.
HUBZone small business procurement fraud matters: Small businesses sometimes are exposed to various levels of procurement fraud. As a result, they can face either jail time or even suspension and debarment. Where situations arise, our HUB Zone small business attorneys apply our vast experience to help you minimize the impact.
Small Business Help Appealing SBA HUBZone application determinations: When the SBA makes an adverse decision regarding your HUBZone certification status, certificate of competency decisions or other rulings that negatively impact your business' bottom line, our law firm can analyze your case for appeal to the SBA's Associate Administrator, Office of Government Contracting and Business Development. Do not make the mistake of filing an appeal with SBA OHA. See . 13 CFR 126.805(a).OHA has no jurisdiction to hear this type of appeal.
Meeting HUBZone qualifications at the bidding stages: Another costly mistake made by small businesses if failing to meet the bidding requirements of 13 CFR 126.601 (c) at the various bidding stages. SBA HUBZone certified companies must still maintain their status when bidding on new federal contracts. This is has been a consistent dispute that results in litigation and bid protests.
Find out more about the HUBZone Price Preference
New SBA Regulations Impacting HUBZone Certified Companies
Nationwide SBA HUBZone Certification Application Services
Watson's SBA HUB Zone certification lawyers and SBA small business consulting firm represent federal contractors in all states regarding needing to get HUBZone certified and with HUBZone set aside litigation matters. We intervene for federal small businesses and large DoD contractors in Alaska, Arizona, Arkansas, California, Colorado, Connecticut, Delaware, Florida, Georgia, Hawaii, Illinois, Indiana, Kansas, Louisiana, Maine, Maryland, Massachusetts, Michigan, Minnesota, Mississippi, Missouri, Montana, Nebraska, Nevada, New Hampshire, New Mexico, New York, North Carolina, Ohio, Oklahoma, Pennsylvania, Rhode Island, South Carolina, Tennessee, Texas, U.S. Virgin Islands, Utah, Vermont, Virginia, Washington, Washington, DC, West Virginia, Wisconsin, and Wyoming.
Cities in which our Washington DC government contract HUBZone application lawyers and Small Business Consulting Firm help companies to get certified include Anchorage, AK; Atlanta, GA; Austin, TX; Chicago, IL; Colorado Springs, CO; Dallas, TX; Denver, Colorado; Indianapolis, IN; Las Vegas, NV; Los Angeles, CA; Miami, FL; Philadelphia, PA; San Antonio, TX; San Diego, CA; San Francisco, CA; San Jose, CA; Santa Clara, CA; and Tampa, FL.
Speak to an Attorney & Get a Free Initial Consultation
Contact Our SBA HUB Zone Certification Attorneys
If you are HUB Zones small business owners and have been accused of government procurement fraud, need help meeting the SBA HUB Zone qualifications and employee requirement, call Watson & Associates, LLC small business consulting firm to schedule a free consultation. Call toll-free at 1-866-601-5518.