Federal Government Investigations Lawyer
Defending Corporations and Individuals in Government Investigations in the US and Overseas. We Help Clients to Avoid Costly Mistakes.
Nationwide Help. Call 1(866)-601-5518 for a Free Initial Consultation.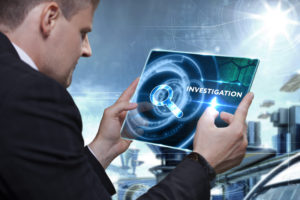 At Watson & Associates, LLC, our investigative lawyers aggressively represent corporations and individuals in white collar litigation and government fraud investigations.
Our white collar defense attorney services expand into common areas such as criminal trials, procurement fraud investigations, government compliance, SEC investigations, congressional investigations and government investigation regarding SBA fraud and federal small business programs.
If you are looking to find a white-collar criminal defense attorney who can get to the bottom of the problem early in the case, our law firm can help. We have represented both small businesses and larger DOD contractors involved in varying amounts of government investigations. Our team consists of lawyers with years of government contracting and procurement backgrounds that can help corporations and individuals in government investigations.
Federal Government Investigation Attorney Defense Services
At Watson & Associates, LLC, our defense attorneys represent corporate executives and individuals in a wide spectrum of situations involving corporate investigations by the federal government.  We can help clients with legal advice across the US and overseas companies in cases involving:
Procurement fraud investigation and federal government contracts

SEC investigations

Inspector General (IG) investigations

Congressional investigations

Procurement Integrity Act

Anti-kickback

Responding to federal subpoenas and request for documents

DOJ investigations

Government litigation

SBA fraud and federal small business programs (8(a), HUBZone), SDVOSB

False Claims Act criminal defense

Invoices and performance issues

FBI government investigations for procurement
Lead Attorney: John Scorsine. Call a government contractor investigation defense attorney today at 1-866-601-5518.
Competitive rates
Free Initial consultation.
Aggressive White Collar Criminal Defense Attorneys
When our clients contact us about a pending federal investigation, we quickly get to the heart of the problem and prepare them for investigator interviews, responding to subpoena requests and interrogatories and the pre-indictment process.
Our goal is to develop the best

defensive

position up front and to preserve the record for litigation or appeal.
If we cannot resolve federal investigation concerns amicably, our civil lawyers and white collar criminal defense attorneys put together of a team of seasoned professionals to provide a sound defense to any criminal or civil actions. We represent:
Fortune 100 companies

Fortune 500 companies

Federal government contractors

Healthcare providers

Transportation and logistics companies

Small businesses

Contractors involved in SBA Programs

Service Disabled Veteran Owned Small Businesses (SDVOSB)

HUBZone Small Business

Construction Companies

Manufacturers and Service Contract Companies
USC 3729 False Claims Act Investigations
When you are doing business with the federal government, a simple mistake can cause the False Claims Act USC 3729 to punish businesses and individuals for submitting false invoices, violation of the SBA small business programs such as HUBZone, SDVOSB, 8(a) BD Program and other federal procurement regulations.
At Watson & Associates, our government investigation lawyers and white collar defense attorneys understand the underlying procurement regulations and can defend against False Claims Act government fraud investigations.
Federal investigative agencies are pushing their efforts to criminally prosecute contractors across the U.S. and Overseas. We are here to help.
Congressional Investigation Lawyer
When a company experiences a congressional investigation, it can be very intimidating and can sometimes cripple a business due to public exposure. The company's public image can be at stake.
Sometimes during a congressional investigation, other federal investigative agencies such as the inspector general can get involved. To keep matters in perspective the government investigation lawyers at Watson & Associates LLC can reduce the stress and anxiety by responding to investigative agency concerns, addressing government contracting and federal procurement legal issues and procurement policy disputes.
We help prepare witnesses and CEO's to testify before Congress

We help federal contractors to adequately respond to congressional inquiries.
Government Compliance
Oftentimes small businesses and larger DOD contractors face allegations of violating government compliance regulations. This can involve FAR compliance, SBA small business regulations such as HUBZone and 8(a) Program compliance. Other companies face federal investigation exposure for failure to follow contractor accounting standards (CAS). These are areas where our federal investigation lawyers can help.
Export Control and Buy American Act Investigations
Given the heightened scrutiny of US export and import activities, federal agencies have increased the amount of Export Control and ITAR violation government investigations.
Criminal penalties and exposure can be significant. At Watson & Associates, an investigative lawyer can help your company to sift through the legal issues and resolve matters short of criminal litigation. We will work with the federal investigative agencies to get the best possible resolution without expensive litigation. However, if there is criminal litigation regarding ITAR compliance or export control violations, our white collar defense attorneys can help. We can represent clients in all states.
We have the ability to develop high-level litigation defense teams: Members of our federal investigations and Procurement corruption Litigation Practice Group join forces with our allies to aggressively represent clients in complex and high-risk cases with investigations or allegations of the False Claims Act, Foreign Corrupt Practices Act, contractor ethics and allegations of government fraud and questionable internal practices. 
Other Federal Government Contracts  & Procurement Fraud Investigations 
SBA HUBZone and 8(a) Small Business Fraud Government Investigations: Many small businesses find themselves involved with a government investigation that involved SBA small business programs. This includes white collar crime and government contract fraud allegations in the SBA 8(a) Program, HUBZone Program fraud, a corporate investigation with false statements and wire fraud when applying for 8(a) certification or getting 8(a) set-asides or sole source contracts. Watson's government attorneys can help.
We Help Federal Contractors Nationwide & Overseas
Our Government Investigation Defense Law Firm provides legal counsel to contractors dealing with federal procurement fraud disputes throughout the United States and overseas including Alabama, Alaska, Arizona, Arkansas, California, Colorado, Connecticut, Delaware, Florida, Georgia, Hawaii, Idaho, Illinois, Indiana, Iowa, Kansas, Kentucky, Louisiana, Maine, Maryland, Massachusetts, Michigan, Minnesota, Mississippi, Missouri, Montana, Nebraska, Nevada, New Hampshire, New Jersey, New Mexico, New York, North Carolina, North Dakota, Ohio, Oklahoma, Oregon, Pennsylvania, Rhode Island, South Carolina, South Dakota, Tennessee, Texas, Utah, Vermont, Virginia, Washington, Washington DC, West Virginia, Wisconsin, Wyoming, and Virgin Islands. Call our federal contracting and government investigation defense attorneys today for immediate help.
Speak to an Attorney & Get a Free Initial Consultation
Call Watson's Government Investigation Defense Lawyers
If you are looking to find a federal contract or government investigation lawyer or procurement fraud defense attorney to save you or your company from potentially thousands or millions of dollars in fines, help with a federal subpoena for records, or to avoid suspension or debarment, contact an attorney today.
Speak With John Scorsine Defense Attorney
If you are involved in a federal government investigation or need assistance with procurement fraud, corruption or an unpaid contract claim.
Call toll-free 1-866-601-5518 or 202.827-9750.