Wise D. Allen Government Contractor Attorneys & Procurement Fraud Defense Lawyer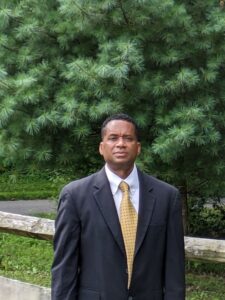 Wise D. Allen, Esquire serves as Counsel to Watson & Associates LLC and has extensive knowledge and experience in resolving corporate defense and litigation in vast international and national legal issues. 
The experience of previous ownership of a small business accents Mr. Allen's federal litigation experience as a former appellate attorney representing the United States and federal attorney for defendants in trials that led to his clients receiving overwhelming favorable outcomes in contested issues and obtaining non-contested resolutions.
Mr. Allen brings substantial experience to government contractor defense cases involving procurement fraud, False Claims Act charges, international contracting, and various white-collar crime cases that involve federal government contracts.   
When government contractors or individuals on under OIG or DOJ investigation, Mr. Allen vigorously uses his prior government agency experience and litigation skills to develop an approach that aims to the clients the best possible result.
Mr. Allen has been sought out to assist as a corporate attorney representing international and national corporations undergoing extensive investigations and litigation from the Department of Justice, Federal Trade Commission, Federal Communication Commission and Securities Exchange Commissions.  He has been part of a team player, including supervisory and quality control roles, with the top 100 world law firms to assist successfully the Federal Rite of Passage in Antitrust Laws, Federal Regulations, Genetic Patents, International Contracts, Government Contractor Billings, and Foreign Corruption Protection Act.  Mr. Allen has represented entities before the United States Patent and Trade Office and office of United States Copyrights. 
Mr. Allen uses his exemplary and proven experience to help government contractors and entities facing civil and criminal fraud exposure for allegations of violating procurement laws by helping them to avoid the most costly mistakes during the investigative and litigation stages by focusing on[ (a) listening to the client, (b) providing the client with the steps to obtain the goal(s), (c) evaluating potential areas of resolution, and (d) reaching an agreement with all sides regarding areas of an agreement.
With regard to adverse agency actions, litigation, and appeals from the various agency government contracting decisions, Mr. Allen coordinates with the firm's strategic approach, addresses clients' main concerns and develops tough legal strategies to aggressively push back and protect their legal rights.
Mr. Allen's history and interactions with high-level agencies present a valuable asset to each client's case.  As a federal government contractor defense attorney and civil litigator, he immediately gets to the heart of the problem and uses his exemplary skills to fight for our clients.
AREAS OF PRACTICE
 Government Contractor Defense

Government False Claims Act (Civil and Criminal Cases)
Buy American and Trade Agreements Act Defense

Anti-Trust laws

International Contracting

International Negotiations

Contract Dispute Act cases

Bid Protests

International Agreements

DoD Defense Contractor White Collar Defense
MILITARY VETERAN GOVERNMENT LAWYER
Veteran Lieutenant Commander Judge Advocate for the United States Military:  Mr. Allen worked with various federal torts statutes and international agreements pertaining to individuals and government contractors.   Indeed, his involvement extended to assisting teams in the areas of government bid awards, federal government personnel ethics, and corporate federal protests. 
Following Mr. Allen trail blazing consecutive wins in administrative board hearings and receiving the highest marks from the Officers, Marines, and Sailors in handling their legal affairs, as a Lieutenant, the Judge Advocate General of the United States Navy had Mr. Allen untangled investigations and claims against United States of America to create a working platform for the ultimate solutions to national and international claims by supervisors.
EXPERIENCE SUMMARY
Analyzed contract legal issues in the areas of trade secrets, patents, SEC, Foreign Corruption Practices Act, Federal Trade and Commission. (FTC), Inter-Agency and International Negotiations, National and International Escrows, Department of Justice. RICO, SIR, CIDs, DOJ Requests 1 or 2, Data Information reviews, Clients include national/international companies in Electronics, Pharmaceutical, Oil Companies, Airlines, Telecommunications, and other companies that provide services and goods. Successful federal litigation experience as the lead attorney at trial and appellate levels for the United States of America.
United States Attorney, JAG, US Navy Reserves 2003-
United States Attorney, JAG, Navy 1994-2003 (Honorable Discharge from Active Duty)
Appellate Attorney for US Government (Navy Military Review Activity)
Won affirmation on all assigned cases for United States as lead attorney on
brief.
Naval Personnel Council Boards, Assistant Command/Staff Judge Advocate o Review of Medical Decision by Medical Determinations by the PhD and MDs of
the US Navy, US Marine Corps, and US Coast Guard.
Parole and Clemency Requests

Discharges Upgrade Requests
Criminal Defense Attorney for Members of US Military, NLSO NW Record for winning the most consecutive drug cases for services members as their assigned federal Navy attorney as lead attorney.
Special Counsel: 02/19/19
Merger & Acquisition (Health Care) regional HSR, secondary product lines, health care services, COVID, and, Privacy Data Prevention (2022)
USAT Audit Committee, SEC Rules 10, 12 & 144 Employment Law, Corporate Structure, Accounting Assumptions GAAP and Non GAAP (2018)
Ciga/Express Script 2nd Level Review DOJ review of West Market Region.
ADMISSIONS
Admitted to Practice Law: PA, CA, & DC (DC is on Active and Good Standing)
EDUCATION
B.A. University of California 1987 (Ranked #1 Historically Majority University)
J. D. Howard University 1992 (Ranked #1 Historical Minority University) Merit Scholarship (1989-1992)
CONTACT
If you are a defense government contractor, or overseas government contractor or an individual needing aggressive legal representation from top legal defense and litigation counsel, contact us online or call us for a Free Initial Consultation at 1.866.601.5518.