Court of Appeals for the Federal Circuit & Federal Appeals Lawyer
Procurement Federal Court Appeals Lawyers | Government Contracting Federal Appellate Attorneys
Government Contractor Lawyers – United States Court of Appeals for the Federal Circuit Appellate Attorneys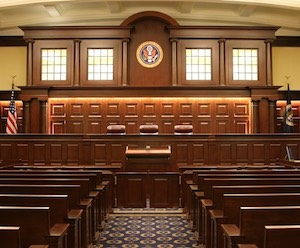 When federal government contractors receive a decision for the Court of Federal Claims or some other procurement trial court, there is a concerning feeling that the decision was in error and that the business has potentially lost access to substantial revenues or the decision wrongfully applied the law.
Finding appeal lawyers who both litigate appellate cases before the United States Court of Appeals for Federal Circuit and understand procurement law can be difficult. Many companies find one or the other. With our law firm, it's time to see if you can get another bite at the apple.
Watson & Associates, LLC offers U.S. Court of Appeals for the Federal Circuit appeals lawyers that aggressively represent federal contractors who seek to protect their rights from adverse lower court decisions involving federal government contracts. In addition to litigating procurement cases on appeal, our federal appeal attorneys and government contractor lawyers also understand the underlying substantive issues where the trial court may have committed reversible errors.
Our Gov contractor lawyers help with government contract appeals, small business government contracting cases, bid protest appeals, Contract Disputes Act appeals and more. 
As federal contractors, you may often find that you received an unfavorable ruling from either the U.S. Court of Federal Claims, ASBCA, CBCA or some other lower trial court. Unfortunately, lower courts do commit a legal error that sometimes can be reversible if you can catch the error in time to meet the appeal deadlines.
By bringing your case to the United States Court of Appeals for the Federal Circuit (CAFC), you can show why your case was wrongly decided and possibly get the decision reversed with the help of one of our government contracting appellate attorneys.
Save time and money by getting your case analyzed

Our government contractor appeals lawyers understand the procurement process and regulations and the issues that can arise on the appellate level.

As federal appeal lawyers, we help our clients determine the risks and benefits of appealing to the federal circuit court.
Our law firm helps small businesses and large government contractors litigate complex matters before the appeals court.
Whether you are appealing a bid protest decision from the U.S. Court of Federal Claims, a Contract Disputes Act case from ASBCA or Civilian Board of Contract Appeals, or a small business government contract adverse decision, our Federal Court appellate lawyers can help.
Types of Appellate Cases We Litigate at the US Court of Appeals for Federal Circuit (Bid Protests, Contract Disputes Act, Small Business Contractor Lawyers, Government Contract Appeals Lawyers)
Our experienced government contract litigation and trial attorneys and federal appeal lawyers represent our procurement and government contract clients in complex litigation matters including:
How Do We Move Forward in Representing You at the Federal Court of Appeals?
After you decide to file an appeal at the Federal Circuit Court of Appeals, our government contract appeal lawyers start by developing the critical issues for appeal, we also then conduct the legal research to apply prior rulings to the facts in your specific case. In federal government contracting, there is also a myriad of regulations that are highly relevant and must also be reviewed.
The goal is to promptly develop a persuasive legal brief that concisely outlines the issues before the judges.

One of the critical tasks involved is for us to consult with the company decision-makers to discuss the process and the pros and cons of filing an appeal.
Not All Cases Will Survive an Appeal
Our federal appeal attorneys cannot guarantee that every case litigated at the US Court of Appeals for the Federal Circuit will win on appeal. However, a thorough review of the government contracting and procurement law issues and assessment of the lower court's errors could build the foundation for assessing the likelihood of success.
As federal contractor appeals lawyers, we can represent clients from any state or overseas.
Learn the long-term effect of a win on appeal and what can happen if a case is remanded back to the lower court.

Our civil appeal attorneys also help clients to consider how a win can impact future government contract awards.
Federal Appeals Lawyers – Help With Appellate Briefs
At Watson & Associates, the goal of our federal appeals lawyers is to develop a sound and persuasive appellate brief for submission to the court. Unfortunately, this takes a considerable amount of time and effort.
Drafting an appellate brief to the Circuit Court of Appeals is the bedrock of your case because the judges will review and discuss the briefs internally. Judges will have already assessed your brief before oral arguments. The appellate brief will also set the tone for the credibility of your appellate lawyer and also create questions from the circuit court judges.
United States Federal Circuit Court of Appeals & Federal Appeals Attorneys Serving Government Contractors Nationwide
As federal appeal lawyers to the federal circuit courts,  we understand the substantive areas and United States Circuit Court of Appeals for the Federal Circuit rules involved in federal procurement including bid protests, Contract Disputes Act, the Court's jurisdiction, and disputes regarding claims and small business matters.
As your federal appeals attorney, our goal is to keep costs down while developing a strategic plan of action that can convince the federal circuit court judges to rule in your favor. Contact one of our federal circuit appellate lawyers today.
Three important things to consider when deciding to file an appeal to the Federal Court of Appeals for the Federal Circuit
As a federal contractor, you never want to appeal a lowers court's decision simply because you disagree with it. It simply is not a good reason to file an appeal at the U.S. Court of Appeals for the Federal Circuit in Washington, DC.  Yes, it is part of the thought process. Just do not make it the sole reason simply because you may be angry.
Legal grounds for your appeal: Your appellate case to the US Court of Appeals for the Federal Circuit is not a retrial. It is also not a place to correct mistakes and submit new evidence. Instead, you must show that the lower court committed either a legal or procedural error (that is reversible). A federal appeals lawyer at the Watson law firm can help you to assess your case and decide whether there are legal grounds for filing an appeal at the Circuit Court of Appeals.
How is a favorable decision going to help your business? This is also an important consideration. For example, in a bid protest appeal to the Circuit Court of Appeals, would a reversal give you a second bite at the procurement? If you are the initial awardee, would a favorable Court of Appeals decision give you back the contract? How does appellate litigation impact future government contract relationships? These are all very important considerations.
What are the costs of your appeal case? Similar to a case being appealed to the United States Supreme Court, Government contractor appeals to the US Court of Appeals for the Federal Circuit can be very expensive. In high-stakes procurements, businesses may see value in the appeal. Others may not. Appellate lawyers spend a lot of time doing legal research, assessing the record at the lower court, and writing appellate briefs. If you are a government contractor seeking to appeal a decision from the Court of Federal Claims, an adverse criminal or civil judgment involving a federal government contract, sit with one of our federal court of appeals attorneys and have an informed decision as to the reality of appealing your case.
Call Watson's Federal Circuit Court of Appeals Lawyers 
If you are a federal government contractor and have recently received an adverse decision from the Court of Federal Claims (COFC); ASBCA or CBCA, call the federal appeals lawyers at Watson & Associates, LLC to look at possibly filing an appeal to the US Court of Appeals for the Federal Circuit. Call for a Free Initial Consultation at 1.866.601.5518.