Wojciech Z. Kornacki Government Contracts & Compliance Attorney Washington DC Metro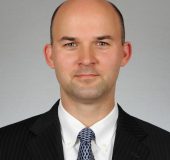 DC Metro Area
Wojciech Kornacki practices in the areas of agency-level and GAO bid protests, federal contract compliance, and Boards of Contract Appeals litigation. He counsels and trains clients on the latest legislative and legal developments in the areas of bid protests, claims and appeals, agency debarments, cybersecurity, and Trade Agreements Act compliance, among other matters. Additional experience in export controls including ITAR  and defense articles
While on Active Duty, Mr. Kornacki served in the U.S. Army as a judge advocate where he defended Soldiers in court-martials, provided legal advice during military operations in Iraq, and drafted legal opinions on government contract and fiscal law matters.
Experience in the following representative matters°
Respond to proposed debarment actions concerning timekeeping, overbilling, proposal preparation, present responsibility and affiliation, and credentials°

File GAO and agency-level bid protests concerning failure to follow solicitation requirements, key personnel, overly restrictive requirements, unreasonable evaluations, delayed corrective action, improper exclusion, flawed source selection process, and provided counsel for intervenors°

Develop corporate compliance policies on code of business ethics, mandatory disclosures, timekeeping, training, and post-federal government employment matters°

Appeal claims and negotiate with federal agencies at the Armed Services Board of Contract Appeals and Civilian Board of Contract Appeals°

Draft a memorandum of understanding between the U.S. Army Multi-National Division – North, and the Kurdish Regional Government°

Subject matter expert in government procurement and administrative law, among others, for a Government contractor creating virtual classroom and training materials for the Judge Advocate General's Legal Center and School°

Defend Servicemembers in military personnel actions, corrections of military records and court-martials°
° Some of the above matters were handled by Mr. Kornacki prior to joining Watson and Associates LLC.
Areas of Practice
Bid Protests

Suspension and Debarment

Government Contract Compliance

Internal Investigations

ASBCA and CBCA litigation

Trade Agreements Act

ITAR & Export Control

ITARS Army and DOD requirements
Publications°
Interviews°
Presentations°
Association of Procurement Technical Assistance Centers: GAO Bid Protest Regulation Reforms: The New Proposed Rules and Their Impact on the Most Prevalent Grounds for Winning Protests (November 8, 2016).
Debriefing, Your Rights and Government Obligations, August 2016

The U.S. Export Control Reforms: New Opportunities for Small Businesses and U.S. Exporters, June 2016

Code of Business Ethics and Conduct with Practical Scenarios, May 2016

False Claims Act and Whistleblowers, Advanced Employment Law, April 2016

Corporate Compliance & Ethics, Advanced Employment Law, April 2016

International Traffic in Arms Regulations (ITAR), Export Administration Regulations (EAR), Export Controls, and Best Practices for Businesses, March 2016

Bid Protests 2015, Annual Review, March 2016

Introduction to Cybersecurity: New and Emerging Cybersecurity Rules and Compliance Risks, Annual Review, March 2016

Buy American Act and Trade Agreements Act, October 2015

14 Principals of Ethical Conduct, Annual Review, March, 2015

Annual Compliance Training on the Code of Business Ethics, January 2015

The Federal Acquisition Regulation and Business Ethics, April 2014

Government Procurement, False Claims Act, Foreign Corrupt Practices Act, April 2014

LawLine: Protecting the Rights of Servicemembers and their Families, 2014

Fiscal and Ethical Law Obligations for Federal Employees, Spring 2009

"The Price of One Iraqi Life", In These Times, by James Foley Article Interview, June 25, 2008

°Some of the above publications by Mr. Kornacki prior to joining Watson and Associates LLC.
Bar Admissions
New York State
Not admitted to Virginia bar. Practice limited to federal law only, at the U.S. Government Accountability Office, Armed Services Board of Contract Appeals, Civilian Board of Contract Appeals, U.S. Court of Federal Claims, and federal agencies.
Education
Oxford University, MSt
City University of New York School of Law at Queens College, J.D.
U.S. Army Judge Advocate General's Legal Center and School, Basic Diploma
Pace University, B.A. (cum laude)
Professional Organizations
American Bar Association (Section of Public Contract Law)
New York State Bar Association
Oxford Alumni Association
U.S. Court of Federal Claims Bar Association