Government Contract Compliance Services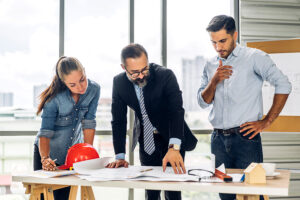 Are you a CEO or small business government contractor struggling to navigate complex regulations and avoid costly legal mistakes?
Our government contract FAR compliance services can help you avoid the most expensive fines and criminal exposure. We understand the complexities of FAR and SBA regulations and can guide you through compliance with ease.
Don't let legal mistakes and fines hold your business back. With our expert guidance, you can focus on growing your business and bidding on more lucrative government contracts.
Our FAR Compliance Attorneys and Government Compliance Consultants Help Clients  to Save Thousands in Unnecessary Litigation and Avoid the Most Costly Mistakes in Federal Contracting
Government contracting compliance can be a nightmare for new contractors and seasoned companies doing business with the federal government. The regulations are constantly changing and the court decisions are also evolving into a new way of doing business with the government.
In addition, lack of government contractor compliance not only leads to termination for default and suspensions & debarment, but the Department of Justice (DOJ) and Office of Inspector General have increased their oversight of government procurement fraud and criminal activity.
With law offices in Washington DC and Colorado, government contractor FARS compliance attorneys at Watson & Associates, LLC frequently advise contractors of all sizes about risks for non-compliance, developing internal policies and controls and proactive measures to avoid civil penalties and criminal liability.  
When contractors are new to federal government contracting, our compliance lawyers help to develop ethics policies, internal investigations, and contract management programs.
When companies are facing white-collar criminal investigations and procurement fraud litigation, our government contracting compliance attorneys also serve as legal counsel and provide legal support.
When companies face Buy American Act compliance challenges, our government compliance lawyers help clients to assess internal compliance when facing investigations and criminal liability.
Keep your company in tune with contract and FARScompliance policies

Get Government Contract Management guidance to minimize the potential for getting a termination for default

Minimize Government Investigations for Non-Compliance wIth Small Business Program Rules and Limitations on Subcontracting Compliance

Avoid criminal liability for failure to follow procurement rules
An example of where government contractor compliance services can be essential to your company's future and the bottom line is the SBA's new rules regarding small businesses and affiliation.  
Government Contractor Compliance – FAR Compliance and DFARS Consulting
Having an effective contract management process that is in tune with these new developments can be an effective way to make that your company does not fall prey to the government's DCMA audits or internal investigations by the IG. 
If you are a small business contractor, or large DOD defense contractor, the FAR and DFARS consulting services at Watson & Associates, LLC can provide insight on how you can align your current internal procurement policies and with the sweeping changes with FAR requirements for government contractors.
Government Contract Compliance Services and Management Consulting
When utilizing our government relations services, our goal is to help defense contractors to better understand government procurement contracts, Federal Acquisition Regulation mandates and to avoid cure notices or show cause letters.
We find that our government contract compliance services better serve prime defense contractors, small businesses and subcontractors performing government construction projects as well as service contracts.
As Government compliance consultants, we help you with:
Development of DFARS consulting and FAR contract management and tailored contracts compliance procedures and management standards;

Developing sound federal contracting best practices for DOD contracts;

Addressing government contract management issues with subcontractors or primes;

Buy American Act Compliance

Risk reduction and becoming DFARS compliant

Internal corporate regulatory compliance solutions reviews

Develop small business compliance manuals that keep your company out of trouble

Federal Acquisition Regulations  (FAR Compliance ) training

Government Contractor Compliance requirements and Statutory interpretation

Management training on various contract clauses and obligations

Federal contracts and performance-based contracting

Scope of work changes and contractor obligations

Participation on the corporate committee on government contracting compliance

Contractor business ethics

Trade Agreements Act TAA Compliance
Buy American Act BAA Compliance

Develop relevant corporate compliance programs

Federal Acquisition Regulation FAR training for contractors

Risk reduction and how to avoid suspension and debarment.
Taking proactive measures: At Watson, our government contracts and compliance consultants frequently provide counseling advice to your company's contractor administrator on best practices about proper documentation, how to avoid costly mistakes when dealing with COR and end-users, and regulatory contracts compliance with cure notices or show cause letters.
Trade Agreements Act TAA Compliance
Our firm is proud to offer specialized Trade Agreements Act (TAA) Compliance services tailored for government contractors. Recognizing the intricacies of international trade and the necessity for adherence to U.S. regulations, we guide contractors through the labyrinth of TAA requirements.
Our seasoned professionals ensure that products and services supplied to the federal government are fully compliant with the Act, reducing risks of non-compliance penalties and safeguarding contractual relations.
By partnering with us, government contractors can confidently navigate the complexities of TAA, ensuring their offerings align with both domestic priorities and international trade commitments.
Buy American Act Compliance
At our firm, we recognize the significance and intricacy of adhering to the Buy American Act (BAA) for government contractors. Our specialized BAA Compliance services are designed specifically for government contractors aiming to navigate the complexities of domestic sourcing requirements.
Our seasoned team offers an in-depth understanding of the BAA's stipulations, ensuring that contractors not only meet the stringent criteria but also capitalize on available opportunities and benefits.
From product origin assessments to comprehensive supply chain reviews, we provide holistic guidance, ensuring that our clients remain compliant, competitive, and confident in their dealings with the U.S. government. With our expertise, government contractors can seamlessly align their operations with the BAA, fostering trust and ensuring a sustained partnership with government agencies.
Federal Acquisition Regulation FARS Compliance Services
Work with federal procurement consultants who understand how the Federal Acquisition Regulation (FAR) impacts your bottom line. The FAR can be your best friend or worst enemy.
Help with new SBA small business regulations: With the new SBA regulations on joint ventures, mentor-protege compliance requirements and limitations on subcontracting rules, government contractors will face much confusion about how the new rules on government contract small business requirements for contractors impact them. See what our clients have to say.
Government contractor compliance requirements are often not followed because you may only focus on the hard requirements of the PWS. This can be a huge mistake.
Government Contract Compliance Lawyers – Help With Training for Contractors' Ethics Programs
 Given the increase in government investigations, our federal government contract management consulting team and attorneys provide procurement consulting services to small and large businesses about federal rules of acquisition.
Our goal is to minimize the impact of possible terminations and debarment actions and focus more on how to be FAR compliant. When companies are facing procurement fraud allegations, our legal team of government contract compliance lawyers help to make sure that contractors have the best solutions in place that can minimize the adverse impact of investigations.
We help with government contractor defense services, legal representatives on your corporate committee on government contractor compliance, or FAR mandatory disclosure requirements, defending against False Claims Act violations,

FAR consulting

and more.
Contact Our Government Contract Compliance Attorneys 
Call us to find out how our government contractor and FAR compliance attorneys can benefit your company. Call 1.866.601.5518.