Contractor Federal Wire Fraud Defense Attorneys
Wire fraud allegations against government contractors are common in many investigations of federal criminal offenses. Our federal wire fraud defense attorneys and federal crime lawyers help clients nationwide avoid costly legal mistakes and penalties imposed under the federal wire fraud statute.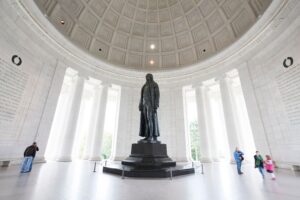 When federal prosecutors investigate or charge government contractors for wire fraud, it is common to also charge anyone associated in the relationship during the performance of the contract with conspiracy to commit wire fraud. The investigation usually focuses on the underlying violations such as Buy American Act non-compliance, Trade Agreements Act noncompliance, or other violations such as various compliance with SBA small business programs.
Once there is evidence to substantiate the predicate violation, then every contract, or effort to get a government contract is converted over to the crime of wire fraud.
Without representation from an experienced government contracts criminal defense, companies and CEOs are almost always convicted.

Our federal wire fraud defense attorneys know how to aggressively push back against allegations of wrongdoing and federal crimes.

Our goal is to minimize the chance of our clients going to federal prisonfor wire fraud.
Top Wire Fraud Lawyers Defending Federal Contractors Nationwide
At Watson & Associates, we're not just wire fraud criminal defense lawyers. We're specialists, standing as a bastion for federal contractors across the United States. Our goal is to safeguard our clients from indictments after government investigations and averting convictions at criminal trials.
Why Government Contractors Choose Watson & Associates for Legal Defense?
Rich Legacy of Federal Expertise: Touting over 30 years in the federal realm, our team has honed their skills in both government contracting and criminal defense.
Unique Insights: With Theodore P. Watson, Esq. at the helm, we're insiders. Our stints within federal government contracting agencies equip us with unrivaled insights into investigations and DOJ tactics, a mark of distinction from our competitors.
Veteran-led Defense: Wise D. Allen, Esq., not only stands as a decorated U.S. Military veteran but carries an arsenal of international legal knowledge. His impeccable track record in wire fraud, procurement fraud, and international contracting defense underlines our unmatched proficiency. He brings a wealth of successful experience to government contractors seeking wire fraud counsel in the various areas of procurement fraud, international contracting, False Claims Act defense and more.
Mr. Allen's federal litigation experience as a former appellate attorney representing the United States and federal attorney for defendants in trials led to his clients receiving overwhelming favorable outcomes in False Claims Act whistleblowers contested issues and obtaining non-contested resolutions. Read  more..
Substance Experience: Scott Lovelock

, Esq,

A retired Air Force officer,  joins our team as Counsel with a wealth of proven knowledge and experience helping clients address issues of risk assessment, mitigation and aggressive help to government contractors defend against wire fraud allegations of wrongdoing, succeed and to avoid most of the costly mistakes that are encountered when failing to understand and implement required compliance programs or understanding the nuances of working with government agencies. Read more…
Nationwide Reach: From Colorado to Washington, DC, our federal wire fraud defense attorneys  are steadfast in defending clients across the nation against accusations of federal fraud.
Types of Government Contract Wire Fraud Cases
Civil Cyber Fraud

Cross-Charging and Mischarging

Defective Products & Services,

Testing & Quality Assurance Violations

Grant & Research Fraud

GSA Fraud

Contractor Conspiracy

SBA Small Business Program Fraud

TINA Violations, and more
What is Wire Fraud?
Wire fraud is a type of federal crime that involves the use of telecommunications technology to transfer false or misleading information in order to defraud an individual or entity. It can involve any type of communication, including telephone, radio and internet. Government contract wire fraud cases can lead to federal wire fraud charges and federal prison sentences because of the use of telephones, faxes and other communication technologies such as emails when bidding for, or invoicing for payment. When contractors use the U.S. mail to bid on contracts then the prosecutor can also bring mail fraud charges. See if wire fraud is a felony.
What is the Wire Fraud Statute of Limitations?
The statute of limitations for wire fraud is five years (18 U.S.C. § 3282) from the date that the crime was committed. After this period, the government can no longer prosecute a person charged with wire fraud. It is important to recognize that many types of federal fraud have a much longer time limit and must be vigorously defended against quickly.  If mail and wire fraud schemes that affect a financial institution, then the statute of limitation is ten years (18 U.S.C. § 3293).
Why the DOJ and OIG Take Interest in Your Company: The DOJ and OIG aren't merely watchdogs for contractors that commit fraud; they're gatekeepers of public trust, ensuring federal funds aren't misused. When red flags appear – be it from irregular contract submissions, internal whistleblower alarms, or patterns that deviate from established norms – they investigate to safeguard taxpayer dollars and uphold the integrity of federal programs. But remember, an investigation doesn't mean guilt; sometimes it's just a matter of clearing up discrepancies or misunderstandings. Our federal wire fraud lawyers and mail fraud attorneys are here to aggressively defend any allegations made against you.
Does an Indictment on Wire Fraud  Automatically Seal Your Fate?: No. An indictment is a formal accusation, a starting point, but not the endgame. It's a sign that there are questions to be answered, not that you're irrevocably labeled guilty. The complexity of federal contracting can lead to honest oversights that might be misinterpreted as fraudulent activities. This distinction is essential: intentionality is a crucial component of genuine wire fraud.
Our Unique Defense Strategy and its Edge
Did you really commit fraud? The world of federal contracting is intricate. Our wire fraud defense attorneys are not only versed in standard legal defense but are also deeply entrenched in the intricacies of government contract laws. This duality is our strength. We offer a more tailored, robust defense by understanding the legal landscape and the specific nuances of federal contracts. It's akin to having a cardiologist rather than a general doctor treating your heart condition. When stakes are high, specialized knowledge isn't a luxury; it's a necessity in wire fraud criminal cases. This expertise significantly boosts your chances of seeing a case dismissed or ensuring you walk away without a conviction at trial.
How to Respond to Investigations and CIDs?
If you are summoned to a meeting with an investigator or served with a criminal investigative demand (CID) by the government, you must respond by taking action. Our attorneys know the applicable laws and regulations, including 18 US Code 1001 (false statements) and false claims act cases. We will develop a plan to minimize your liability or take appropriate steps to protect your rights under the law. Additionally, we can perform an independent investigation on your behalf to determine if any potential violations have occurred or help you respond quickly and effectively.
Why Trust Watson & Associates?
Vast Experience: Many of our wire fraud lawyers and criminal defense attorneys, including Theodore P. Watson, Esq., have hands-on experience working for federal government contracting agencies, giving us a unique insight into how federal investigations for the federal crime unfold.
Focused and Tailored Legal Defense Strategy: Wise D. Allen, Esq., our leading counsel, is a former Veteran Lieutenant Commander Judge Advocate for the U.S. Military. His rich background in defending international and national legal issues, particularly in procurement and wire fraud, has resulted in numerous victories for our clients.
Nationwide Coverage: Our extensive network ensures we serve federal government contractors in all states. With offices in both Colorado and Washington, DC, our reach is unparalleled.
Understanding Federal Wire Fraud Charges: Wire, mail, and procurement fraud aren't trivial offenses. They're heavy-weight federal charges that can see individuals grappling with severe fines and prison terms of up to 20 years. However, despite their virtuous intentions, many federal contractors inadvertently fall into the DOJ's trap, getting accused of fraud.
Where We Make The Difference: It's in these gray zones that Watson & Associates shines. We discern the minutiae, like contract nuances, SBA program intricacies, and Buy American Act compliance areas. We aim to address the actual concerns which precipitate fraud allegations, often where other criminal defense attorneys might falter.
Engage With Federal Investigators Cautiously: Our golden rule? Always converse with our federal defense attorney before diving into discussions with federal investigators. What seems like a benign chat can swiftly spiral into a potential indictment.
Our Federal Crime Services Extend Beyond Wire Fraud Defense: Our team of federal wire fraud attorneys, with its vast expertise, offers a plethora of services:
OIG investigations

Fraud and false statements

Whistleblower and Qui Tam Defense

SBA programs

False Claims Act defense, and more.
Watson & Associates: Premier Federal Contractor Fraud Defense Attorneys
Facing accusations related to procurement fraud or wire fraud? You're not alone. Regardless of business size, many federal contractors find themselves unjustly indicted and charged with serious offenses despite their honest intentions. At Watson & Associates, our seasoned criminal wire fraud defense lawyers are dedicated to fiercely defending federal contractors across the U.S., leveraging our 30+ years of expertise in federal government contracting. We help clients to stay out of federal prison.
Procurement Fraud FAQs for Federal Contractors:
What is wire fraud? Wire fraud involves deceitful acts facilitated by technology such as emails, bank accounts, or even mail services. Both individuals and corporate entities can face allegations, resulting in potential heavy fines and prison sentences.
What legal defenses can be used against wire fraud allegations?

Demonstrating a lack of intent to commit fraud, termed "constructive fraud".

Introducing the "good faith defense" which disputes any intended fraud.

Highlighting unauthorized fraudulent actions by employees, providing defense for higher corporate levels.

Proving the absence of intent behind the alleged fraudulent communications to stay out of federal prison.

Why is it risky to speak to federal investigators without legal counsel? Speaking directly to investigators can inadvertently turn you into a prime suspect. It's crucial to consult with an attorney before making potentially incriminating statements.
How can Watson & Associates help if charged with procurement fraud? Our specialized knowledge in criminal defense and government contract law makes us uniquely able to dismantle the charges against you. We excel in unearthing the underlying issues often missed by other attorneys, like violations of the Buy American Act or SBA small business contracts.
Your Path Forward: Don't let mere allegations tarnish your reputation or jeopardize your freedom. Trust Watson & Associates to be your staunch ally. Our consistent track record and our deep understanding of government contract law drastically enhance your chances of dismissing or overturning a case.
Looking for the best wire fraud defense lawyer in government contract cases?
Reach Out to Us: To discuss your concerns and get the best possible defense, contact Watson & Associates today. Call us toll-free at 1.866.601.5518 and let our leading federal wire fraud defense attorneys guide you.
Remember, your future, freedom, and reputation are invaluable. Secure them with Watson & Associates ' government contractor criminal defense lawyers– your best defense against federal procurement fraud allegations.