Federal Health Care Fraud Lawyers (Defense)
Federal Health Care Fraud Defense Lawyers – Nationwide Help. Our Health Care Fraud Case Attorneys Reduce the Chances of Hefty Fines and Jail Time In False Claims Act Cases. 
Facing federal healthcare fraud allegations can be daunting. At Watson & Associates, LLC, our team of seasoned criminal defense and federal healthcare fraud attorneys will navigate you through the complexities, ensuring we protect your rights every step of the way.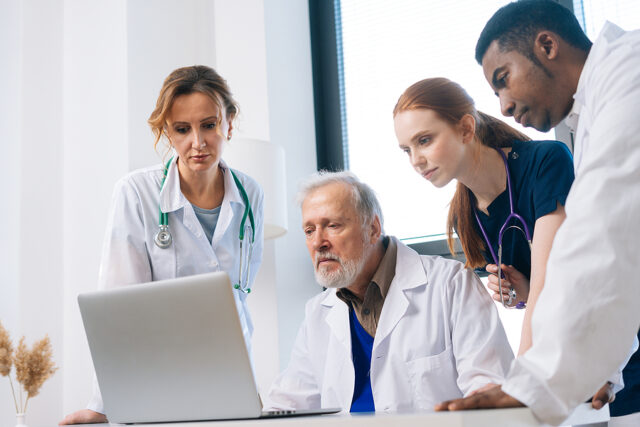 Has the federal government knocked on your door and issued you a subpoena? Are you more worried that our system of "innocent until proven guilty" will fail? You are not alone. Unfortunately, healthcare providers and suppliers are frequently targeted primarily from a whistleblower's phone call on baseless allegations.
At Watson & Associates, LLC, our federal health care fraud lawyers represent and defend companies and individuals nationwide. We aim to dispel any weaknesses in the government's case – From health care fraud investigation through indictment and trial.
Healthcare government investigations and criminal defense lawyers: You have rights even as a criminal defendant. We are here to ensure the government does not violate those rights. Call us at 1.866.601.5518 for a FREE CONFIDENTIAL consultation.
Nationwide Legal Defense for Health Care Providers, Manufacturers, and More
Government Investigations | HealthCare Qui Tam Whistleblower Defense Strategies | Subpoenas & CIDs | FBI, HHS, OIG and DOJ Investigations | Indictments | Federal Criminal Defense & Trials | Corporate Compliance | Internal Investigations | Health Care Fraud Investigations Defense
We Protect Healthcare Clients in 50 States | Call 1.866.601.5518 for a Confidential Free Consultation and Immediate Help.
What is Healthcare Fraud?
Healthcare fraud typically invoices a scheme to defraud a healthcare program. The government's case may tend to argue false or fraudulent representations in exchange for money – payment of invoices or something of value. The key to defending a healthcare fraud case is to show a lack of intent. This is usually the government's biggest hurdle in a criminal case.
A case against you can be filled with billing errors and coding violations. However, these things by themselves do not prove intent. At Watson & Associates, LLC, our healthcare fraud lawyers represent federal clients nationwide.
We build a team of healthcare defense attorney specifically for your case and aim to get the case or charges dismissed as early as possible. If that fails, we are prepared to aggressively represent you at trial.
Health Care Fraud Punishments
If you are found guilty and convicted of health care fraud, you can be exposed to sever penalties or jail time. For example, false statements on a claim can cost you up to a 5-year prison sentence per offense. Federal health care fraud can result in a 10-year sentence per offense. If however, fraud leads to leads to bodily harm, a defendant could face a 20-year prison sentence. In addition, you could face from $250,000 to $500,000 depending upon the claim.
Health care providers or facilities could be exposed to millions or even billions of dollars in fines. A court or jury could also order payment of restitution. At the end of the day, the key is to mount a strong defense early in the case. The further you wait for the government to bring the case, the window of opportunity disappears. Our healthcare fraud attorneys are here to help.
Types of HealthCare Fraud Cases We Handle
Our Federal Defense Lawyers Represent Clients in a Variety of Health Care Fraud Case including: 
Billing for unnecessary medical services

Billing for services not provided

Upcoding claims – submitting claims that are higher than the level of service provided for higher reimbursement

Unlicensed medical services

Duplicate claims

Misrepresenting diagnosis or procedure to capitalize on maximum profits

Unbundling procedures – serrating costs for procedures normally billed as one kind of treatment

Altering medical records or reports

Receiving kickbacks for any goods or medical services
Call us today for a Free Initial Consultation at 1.866.601.5518. Speak to Theodore Watson
What are the Key Components of Healthcare Fraud?
False Representations: This pertains to making deceptive claims or submissions to insurance providers, government programs like Medicare or Medicaid, or other healthcare programs.
Intent: The intention behind the act is a significant element in determining healthcare fraud. The accused party must have deliberately planned the misrepresentation or deception for personal gain.
Errors vs. Fraud: It's crucial to differentiate between intentional fraud and genuine mistakes. Healthcare systems can be intricate, and mistakes can occur in billing and coding. However, mere errors do not necessarily qualify as fraud. The government or the accusing body has to prove beyond a reasonable doubt that the defendant had an underlying intention to deceive or commit fraud.
Government's Burden of Proof: Prosecutors carry the onus to establish that any misrepresentations in billing or coding were not mere oversights but were committed with fraudulent intent. A critical aspect of a healthcare fraud defense is emphasizing the possibility of genuine mistakes and challenging the evidence of intent. This is an area where our healthcare defense attorneys can help.
Potential Repercussions: If found guilty, the penalties for healthcare fraud can be severe, including hefty fines, restitution, and even imprisonment.
While the healthcare industry is susceptible to genuine errors given its complexity, not every mistake is tantamount to fraud. A robust defense in healthcare fraud cases challenges the evidence, especially the proof of intent, ensuring that honest errors aren't penalized as intentional fraud. This is where the federal health care fraud lawyers at Watson & Associates, LLC can help.
As a federal health care defense law firm, we understand that any investigation or indictment for healthcare fraud carries great stress, and we use our expertise and resources to protect you from serious consequences. 
False Claims Act Health Care Fraud Case Lawyers – What are the Penalties
Healthcare fraud is a serious crime that can lead to significant penalties for those convicted of it. At Watson, our health care fraud defense lawyers provide assertive and aggressive False Claims Act health care fraud defense lawyers who will fight back. We understand that your reputation is essential. Any mistakes made by government attorneys must be quickly resolved. Federal prosecution of fraudulent schemes or fraudulent behavior can lead to long-term consequences. Although the severity of the penalties depends on the severity of the crime, those who are convicted of healthcare fraud face any combination of the following:
Heavy fines

Jail time

Revocation of professional licenses

Restitution to the victims
Our Expertise
Federal Fraud Investigations by FBI, DOJ, or OIG Offices
Understanding the intricacies of these federal investigations is vital. Our team of health care fraud lawyers is adept at deciphering the methodologies used by the Federal Bureau of Investigations (FBI), DOJ, and OIG, ensuring you're not wrongfully penalized.
Fraud Case Attorney Responding to Civil Investigative Demands (CID)
Responding to OIG or DOJ civil investigative demands or CIDs can be overwhelming. We ensure timely and accurate responses, reducing potential penalties and safeguarding your interests. Our medical fraud case attorneys can help with Trade Agreements Act Compliance With Medical Equipment Sold to the Government and product substitution False Claims Act investigations.
Selling medical equipment to the government? Our attorneys ensure that your sales practices align with the Trade Agreements Act, preventing unnecessary legal entanglements.
Healthcare Overpayment Defense Attorneys
If you've been accused of overpayment, our team can help. Our healthcare overpayment defense attorneys are skilled at examining medical billing records and other evidence to ensure your rights are defended. 
Medical Billing Fraud Defense Lawyers
Accusations of medical billing fraud and overbilling can tarnish reputations. Our healthcare fraud lawyers focus on scrutinizing the evidence, verifying billing records, and negating wrongful allegations by federal prosecutors
Our medical billing fraud defense attorneys provide experienced and knowledgeable representation in federal medical billing fraud charges, helping to ensure your rights are protected when facing charges about overbilling private insurance companies.
Speak with Theodore Watson today for immediate help. Call 1.866.601.5518.
Health Care Fraud FAQS 
Q: During a government healthcare fraud investigation, how should I act? A: Immediate consultation with criminal defense attorney and federal health care fraud defense attorneys is crucial. Timely action facilitates evidence collation, witness preparation, and defense strategy formation.
Q: What if I receive a criminal indictment for healthcare fraud? A: Engage with specialized legal counsel without delay. Watson & Associates' nationwide presence ensures robust defense against healthcare fraud indictments.
Q: How is your firm proficient in both healthcare and procurement sectors? A: Our unique positioning with former government agency experts gives us an edge in understanding the cross-section of healthcare and procurement regulations.
Q: I am currently undergoing a government healthcare fraud investigation. How should I proceed? A: It's vital to consult with expert healthcare fraud defense lawyers as soon as possible. Acting swiftly can aid in gathering evidence, preparing testimonies, and building a solid defense.
Q: What if I'm served with a criminal indictment for healthcare fraud? A: An indictment elevates the urgency for specialized legal counsel. Our team at Watson & Associates, operating nationwide, is trained to handle such scenarios, ensuring you get a vigorous defense against the allegations.
Q: How can Watson & Associates support me during an investigation or trial? A: Our federal health care fraud defense lawyers specialize in dissecting prosecution evidence, strategizing defense angles, negotiating settlements, and challenging the prosecution at every turn. We use every legal avenue to either reduce or eliminate charges.
Q: Are you familiar with healthcare contracts and their associated complexities? A: Absolutely. Our team is adept at dealing with the intricacies of healthcare contracts, especially for government contractors. As health care fraud lawyers, we understand both the medical and procurement sides, ensuring a comprehensive defense.
Q: How does your nationwide service benefit me? A: No matter which state you're based in, from California to New York, or Alaska to Texas, our criminal defense lawyers are equipped to represent and defend you. This nationwide presence ensures consistent and top-tier legal aid across the board.
Q: What sets Watson & Associates apart from other law firms? A: Our unique combination of former government agency experience, a keen understanding of both procurement regulations and healthcare sector nuances, and a relentless commitment to our clients set us apart. We don't just represent; we partner with you in your defense.
Q: During a government healthcare fraud investigation, how should I act? A: Immediate consultation with healthcare fraud defense attorneys/ criminal defense lawyers is crucial. Timely action facilitates evidence collation, witness preparation, and defense strategy formation.
Q: How is your firm proficient in both healthcare and procurement sectors? A: Our unique positioning with former government agency experts gives us an edge in understanding the cross-section of healthcare and procurement regulations.
Our Featured Lead Attorneys:
Experience: Theodore has served federal government contracting agencies as a seasoned practice group lead.
Expertise: His understanding of the DOJ, SBA OIG, and the intricacies of how civil or criminal cases are built against you makes him a top choice.
Expertise: From procurement fraud to Anti Corruption law, and the False Claims Act, Wise's litigation experience is unparalleled.

Former Navy officer with years of experience in criminal defense.
We also work with local counsel as part of our team build and defense strategy.
Federal Health Care Defense Strategies
Healthcare fraud lawyers use various strategies to defend their clients against allegations of healthcare fraud. They can question the evidence, say you didn't know about the fraud, or argue that it was accidental. They may also negotiate plea bargains or seek to reduce or dismiss charges. Healthcare fraud is a complex and serious crime with severe legal and financial consequences. Having a skilled and experienced healthcare fraud case attorney is crucial if you are accused of healthcare fraud.
HealthCare Fraud Investigation Defense
Understanding 31 U.S.C. 3729 et seq: You might have heard of the False Claims Act (FCA), a rigorous federal law designed to prevent fraud against the government. If someone accuses you of medical fraud, it's probably because they think you intentionally made up false claims. The purpose of making up these false claims is to get money from the government.
Having a healthcare fraud case attorney experienced in the Federal False Claims statute will be essential for fair treatment under the law and protecting your constitutional rights in healthcare fraud investigations defense. 
Contact Our False Claims Federal Health Care Fraud Defense Attorneys for Immediate Help 
Protect Your Future with Watson & Associates: For a confidential, no-cost initial consultation with one of our federal health care fraud defense attorneys, contact the best criminal defense lawyers at Watson & Associates. Call 1-866-601-5518. Your defense, from coast to coast. Speak to Theodore Watson.