Health Care Defense & Anti Kickback Attorneys 42 USC 1320a–7b
Nationwide Stark Law / Anti Kickback Attorneys – The US Attorney's Office is Aggressively Seeking Out Providers Who Violate the Law under 42 USC 1320a–7b – Let us Put together a Solid Defense Team to Help You. We Represent Federal Clients Nationwide.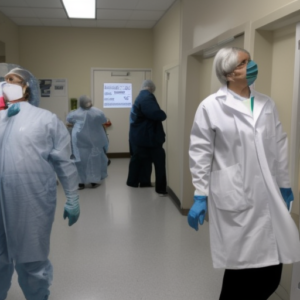 The Federal Anti-Kickback Statute  under 42 USC 1320a-7b is a serious matter, with violations that result in some of the health industry's most common allegations. As it stands, the statute makes it a felony to provide, accept, or solicit remuneration in any capacity – in return for federally-reimbursable healthcare services.
With two critical elements, the application of the statute is complicated, requiring guidance from experienced lawyers. If you're facing potential Anti-Kickback violations or disciplinary actions, don't hesitate to reach out to us for support.
See the Case Below As an Example of What Federal Prosecutors Do -If you are targeted, call our defense attorneys immediately.
Navigating the confusing maze of health care regulations applicable to providers, manufacturers and the like can be a nightmare. With a multitude of formidable legal frameworks to comply with, including the Stark Law and Anti-Kickback Statute, any entrepreneurs and government contractors in the health care industry find themselves swimming in a sea of complex rules and regulation, restrictions and pitfalls that can lead to criminal liability and exposure.
The white collar fraud and government contract fraud defense lawyers at Watson & Associates, LLC are progressing to become the go-to- Anti-kickback statute defense lawyers who aggressively represent providers and entities nationwide. As Anti Kickback attorneys, we can provide legal representation for various providers subject to 42 U.S. Code 1320a–7b, including hospitals, equipment leasing companies, and physician-owned distributorships among others.
By retaining an anti kickback attorney at Watson as your legal defense counsel, we will develop a robust team of experts to represent you in your specific cases. We deal with clients who are going through an anti-kick back investigation, or being indicted or charged criminally with health care fraud and violating the anti-kickback laws.
Stark Law Overview
The 42 USC 1320a–7b  Stark Law is a thorny and complex set of health care regulations that has evolved since its inception in 1995. It was Initially applicable to clinical laboratory services but now encompasses a plethora of services known as "Designated Health Services" (DHS) and scrutinizes almost any financial relationship between doctors, hospitals, government contractors and entities that perform, or bill for, DHS. Stark law prohibits doctors and medical professionals from referring Medicare or Medicaid-reimbursed DHS to any entity with which they or an immediate relative have financial dealings. Failure to comply could result in dire consequences such as non-payment, hefty fines, and more. 
When clients retain our Stark law defense attorneys and federal healthcare lawyers, we first assess your professional relationships, look at the exceptions  and represent you during government investigations. If you are facing indictment or criminally charged with violating the Anti-Kickback statute, our defense lawyers will get on board, form a team of health care defense professionals and aggressively represent your interests.
What Must the Government Prove?
The government needs to demonstrate that the exchange of goods or services and compensation took place with the intent to violate the law, but specific intent is not necessary.
 What is Remuneration? Remuneration refers to anything of value, including gifts, cash, donations, consulting fees, and rebates. If any form of remuneration is offered between parties, the Anti-Kickback Statute is implicated. The statute's scope has been interpreted broadly by courts, which means that a payment arrangement can be considered a violation if one of its purposes is to induce referrals. U.S. v. Greber, 760 F.2d 68 (3rd Cir. 1985).
Intent Requirement under 42 USC 1320a–7b : It is important to demonstrate to government agencies that there was no intention of wrongdoing when providing any form of payment or benefit to physicians, as the Anti-Kickback Statute applies to any such remuneration.
A violation occurs when there is both remuneration and an illegal intent to induce or reward referrals, or to purchase, lease, order, arrange for, or recommend any good, facility, or service that may be paid for by a government healthcare program.
The government no longer needs to prove a defendant knew their behavior was unlawful under the Patient Protection and Affordable Care Act (PPACA). This is according to United States v. Mathur, 2012 WL 4742833 (D. Nev. 2012). A person no longer needs actual knowledge of the Anti-Kickback Statute or intent to violate the Anti-Kickback Law due to 42 U.S.C. 1320a-7b(h). The PPACA was created to lower the intent standard and make it easier for the government to prove illegal intent. Whether intent existed is up to the judge or jury, as seen in U.S. v. Bradford Regional Medical Center, Civil No. 04-186 Erie, 2013 U.S. Dist. LEXIS 141835 (W.D. Penn. Sept. 30, 2013).
The Below Case is Quoted on DOJ Website.
Three Charged with Violating Federal Anti-Kickback Laws and Committing More Than $4.7 Million in Health Care Fraud
U.S. Attorney's Office, Northern District of Oklahoma
TULSA, Okla.— A grand jury returned an indictment today charging three men, including two physicians, with violations of the federal anti-kickback statute as well as conspiring to commit health care fraud, announced U.S. Attorney Trent Shores.
"Health care fraud is not a victimless crime. It has a costly effect on the taxpayer and beneficiaries enrolled in Medicare, TRICARE, and workers compensation coverage under the Federal Employees Compensation Act," said U.S. Attorney Trent Shores. "The Justice Department will not stand idly by while physicians exploit federal programs designed to help American families. I encourage the public to report suspicious health care practices and billing to federal authorities. We will investigate and bring to justice those defrauding our system for their personal benefit."
The criminal indictment alleges that since November 2012, Christopher Parks, 57, and Dr. Gary Lee, 58, both of Tulsa, engaged in a conspiracy to unlawfully pay kickbacks and bribes to physicians in order to induce the physicians to write compounding prescriptions to pharmacies with whom the two were affiliated, including OK Compounding LLC in Skiatook, One Stop RX LLC in Tulsa and NBJ Pharmacy LLC and Airport McKay Pharmacy, both in Houston. The defendants then allegedly submitted large claims for payment to federal health care programs and private insurers and divided the profits.
Dr. Jerry Keepers, 65, of Kingwood, Texas, is also named as a defendant in the indictment. He is charged with soliciting and receiving over $860,000 in illegal bribe and kickback payments from Parks and Lee and also conspiring with the two men to commit healthcare fraud.
Compounding prescriptions is a practice in which a pharmacist or physician combines, mixes or alters ingredients of a drug or multiple drugs to create a medication that is tailored to the specific needs of a patient. These medications are prescribed when standard Food and Drug Administration (FDA) approved drugs are unsuitable for the patient. They are also more expensive and reimbursed at a far higher rate by federal and private insurance companies. Compounded drugs are not to be mixed or marketed in bulk.
The indictment alleges physicians were provided pre-printed prescription pads that listed compounding formula choices. Participating physicians allegedly checked a box with their preferred selection and then faxed it directly to the associated pharmacies, rather than writing a prescription tailored to the patient who could then take it to a pharmacy of their choice.
Payments to physicians were disguised through various sham business arrangements, according to the indictment. For example, physicians would allegedly enter into agreements with a pharmacy to serve as "medical directors." However, the physicians would provide no actual services as medical directors, according to the charges. Instead, physicians were allegedly paid kickbacks for writing prescriptions for medications whether or not their patients needed them and sending the prescriptions to pharmacies affiliated with Parks and Lee.  As a result of Parks and Lee's scheme, federal health care programs suffered a total estimated loss of at least $4.7 million.
Conspiracy to violate the anti-kickback statute carries a possible maximum sentence of five years in prison and a $250,000 fine, while violating the anti-kickback statute carries up to 10 years in prison and a $100,000 possible fine. A conviction of health care fraud without injury or death carries also carries a possible maximum of 10 years in prison, but if resulting in injury or death, the maximum penalty climbs to 20 years or life in prison, respectively.
Assistant U.S. Attorneys Melody N. Nelson and Richard M. Cella are prosecuting the case.  The Defense Criminal Investigative Service, Department of Labor-Office of Inspector General (OIG), IRS – Criminal Investigation, U.S. Postal Service-OIG, FBI and the Department of Health and Human Services-OIG conducted the investigation.
An indictment is a formal accusation of criminal conduct, not evidence. A defendant is presumed innocent unless convicted through due process of law.
Is Your Case a Criminal or Civil Case? A Defense Attorney at Our Firm can Help.
Clients often inquire about the nature of the government investigation when reaching out to Watson & Associates, LLC for assistance. It is essential to determine whether the investigation is civil or criminal, as healthcare fraud statutes allow for both types of remedies. Federal courts indict approximately 1,400 individuals each year for healthcare fraud, and over 2,500 individuals are under investigation for Medicare fraud.
As Anti Kickback Attorneys, we gain insight from talking to new clients about their specific cases. Our experience and knowledge help us notice details that others might miss. We pay attention to how clients were notified about a government investigation, which agency contacted them, and who is in charge. Just because a prosecutor or federal agency is involved does not mean that you are guilty of a crime or that it's a criminal investigation.
Our anti-kickback law attorneys are available for a consultation if you call us today. The initial consultation is free and confidential. Our goal is to help you gain relief and move on with your life, and we can handle your case for you.
Help With Anti-Kickback Statute and Related Laws
Navigating the Stark and Anti-kickback statutes to avoid criminal liability and violations can be tricky terrain for any health care business. Violations of the Anti-kickback statute, for instance, can lead to prison terms of up to five years, fines of up to $25,000, and exclusion from the Medicare program.
But it's not only the federal regulations that can cause headaches. At Watson & Associates, we focus primarily on federal anti kickback laws and represent clients across the United States.
What is the Penalty for Anti Kickback Statute Violations?
The penalties for violation of the Anti-Kickback Statute can be severe— Penalties for violating Stark laws can be severe. They include denial of payment, refund of payment, imposition of a $15,000 per service civil monetary penalty and imposition of a $100,000 civil monetary penalty for each arrangement considered to be a circumvention scheme.
Fortunately, Watson & Associates, LLC provides Anti Kickback Statute and Stark Law Defense Lawyers who can help you navigate the complexities of 42 USC 1320a–7b  and create a strategy to minimize potential risk. These lawyers specialize in understanding the legal nuances of the Anti-Kickback Statute and Stark Law, as well as providing comprehensive legal advice for business owners.
At Watson &. Associates, LLC our lawyers are quickly gaining a reputation as the go-to boutique law firm for anti-kickback and Stark Law defense services. Our team can provide strategic guidance to help reduce potential civil or criminal liability.
Stark/Fraud and Abuse FAQs: Everything You Need to Know About  42 USC 1320a–7b
Physicians under 42 USC 1320a–7b have been banned from referring DHS covered by Medicare or Medicaid to entities with whom they have a financial relationship. But, how do you know if you qualify as a "physician"? According to the Phase 1 final regulation, a "physician" can refer to various medical practitioners, from doctors of medicine or osteopathy, to doctors of dental surgery and medicine, podiatric medicine, and even chiropractors.
But what exactly is DHS? DHS, or "Designated Health Services," incorporates certain services like some medical equipment, supplies, and drugs, to which the physician self-referral prohibition applies. DHS includes clinical laboratory services, physical and occupational therapy, outpatient speech-language pathology services, radiology, radiation therapy, durable medical equipment, prescription drugs, and much more.
Now, what if your patients need these designated services? How do you make the necessary "referral" without violating the Stark ban? "Referral" refers to a physician's request for an item or service payable under Medicare or Medicaid, including requests for consultation with another physician or the ordering of any test or procedure. Luckily, the definition of "referral" excludes services performed personally by a referring/ordering physician.
Lastly, what about "financial relationships"? A "financial relationship" encompasses either a direct or indirect ownership or investment interest in an entity by equity, debt or other means, and even includes direct or indirect compensation arrangements with an entity. By understanding these frequently asked questions, you can stay compliant with the Stark law while ensuring your patients receive the DHS they need.
Call our Stark Law Anti KickBack Lawyers Today
If you are going through an investigation or facing criminal charges for allegations of Anti Kickback Statute fraud, please call our federal defense lawyers immediately for a CONFIDENTIAL FREE CONSULTATION. CALL 1.866.601.5518.  SPEAK TO THEODORE P. WATSON.