Government Small Business Attorneys & SBA Government Contracting Lawyers
Helping Federal Small Business Government Contractors in ALL STATES to Advance in the Federal Marketplace.
Getting a government small business contract is especially difficult for companies seeking to get established in the federal procurement marketplace. When companies finally get federal contracts,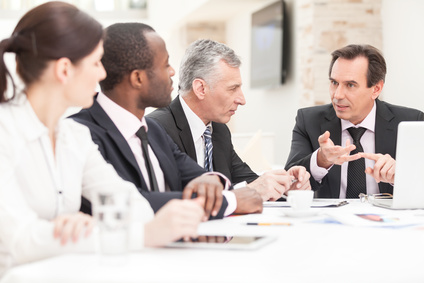 they also experience difficulty and confusion with the various FAR regulations and SBA law as it relates to SBA small business size standards.
Prompt response
Legal costs at a fraction of what larger firms charge
Free initial consultation.
 We have accomplished favorable results from clients in various industries. In addition, over the past ten years, the federal government has launched a series of investigations upon small business contracts that have led to terminations for default, suspension and debarment, and criminal indictments.
With over 30 years of experience and with law offices in Washington, DC and in Denver, Colorado, the small business contracts and SBA lawyers at Watson & Associates, LLC frequently help companies nationwide to navigate through the various small business contracting issues that arise on a daily basis such as meeting the Small Business Administration definition. Common areas of practice include providing guidance with:
Teaming agreements – business agreement between two parties

Mentor-protege and JV agreements

Limitation on subcontracting matters

Pass through FAR clauses

SBA 8(a) Program matters

Small business set aside disputes

Affiliation and size protests disputes

Internal policies and controls

Internal investigations

FAR compliance, and more.

SDVOSB veteran business matters

SBA size standards and Small business size protest litigation
To Speak to a federal small business government contracts lawyer and  SBA attorney, call 1-866-601-5518. FREE Initial Consultation.
FAR 19 Small Business Set Aside & SBA Government Contracting Opportunities
Our government small business and federal procurement lawyers have developed a reputation for providing solid legal advice and business resource help with the various small business opportunities under SBA contracting programs and disputes under FAR 19. This includes SBA government contracting 8a certification, HUBZone Certification, Service Disabled Veteran Owned Small Business set asides (SDVOSB), and Woman-Owned programs. See our practice areas to see how we can further help you.
FAR 19 & SBA 8a Program Lawyers
When small businesses experience difficulty with the various SBA small business government contracts programs, our attorneys provide detailed legal advice from beginning to end.  Watson's SBA attorney services offer experienced lawyers that can help with the 8a certification process, appealing 8a terminations, joint venture contract disputes and more.
HUBZone and Service Disabled Veteran-Owned Small Business Government Contracting Issues
Another small business contract area that gets a fair share of legal attention is the SBA government contracting HUBZone and Service Disabled Veteran owned small business set-aside programs. Whether, there is a challenge to your small business size status, teaming and joint venture legal matters, our SBA lawyers can help.
SBA Government Contracting –
Contractor Teaming Agreements and Joint Venture Agreements:  A huge hurdle for companies seeking larger small business opportunities with the federal government is the proper use of contractor teaming agreements, Mentor Protege relationships, and joint venture agreements. Watson's government small business lawyers provide detailed guidance when bidding teaming partners and SBA government contracting with joint ventures. The firm also provides legal representation in SBA affiliation challenges and providing legal advice about SBA size standards. We serve as contractor SBA attorney in various disputes.
Government Small Business Contract Claims:  When contractors face problems with government contract claims, we also provide legal assistance from the claims submission stage all the way to appealing the contracting officer's final decision to the ASBCA, CBCA or U.S Court of Federal Claims. 
Small Business Size Standards, Size Protests, and Appeals
 Our attorneys often represent small companies when there are small business size standards protest disputes under the Ostensible Subcontractor Rule or the SBA has issued an adverse size determination decision. Meeting the small business definition is critical. Our SBA attorneys frequently practice before SBA OHA and understand the common legal issues that arise during small business set aside litigation and appeals. Find out more about our SBA size appeal attorney services.
What is a Small Business Concern?
 A business concern eligible for assistance as a small business is a business entity organized for profit, which has a place of business located in the US., and which operates primarily within the United States or makes a significant contribution to the U.S. economy through payment of taxes or use of American products, materials, or labor.  A business concern can also be a small agricultural cooperative.
Dominance in the field – To meet the small business concern definition, the firm may not be dominant in its field of operation.  That is, it cannot exercise a controlling or major influence on an industry.  As part of its review of a size standard, SBA investigates whether a concern at or below a particular standard would dominate the industry on a national basis.  Thus, a concern at or below the size standard is presumed not to be dominant in its field of operation.
Nationwide Legal Government Contracting Services
Our federal government small business contracts and SBA government contracting attorney services cover federal contractors in all states regarding legal and non-legal matters. We assist federal small businesses seeking small business opportunities and large DoD contractors in Alaska, Arizona, Arkansas, California, Colorado, Connecticut, Delaware, Florida, Georgia, Hawaii, Illinois, Indiana, Kansas, Louisiana, Maine, Maryland, Massachusetts, Michigan, Minnesota, Mississippi, Missouri, Montana, Nebraska, Nevada, New Hampshire, New Mexico, New York, North Carolina, Ohio, Oklahoma, Pennsylvania, Rhode Island, South Carolina, Tennessee, Texas, U.S. Virgin Islands, Utah, Vermont, Virginia, Washington, Washington, DC, West Virginia, Wisconsin, and Wyoming. 
Cities in which our federal government small business SBA lawyers and attorneys assist federal government contractors include Anchorage, AK; Atlanta, GA; Austin, TX; Chicago, IL; Colorado Springs, CO; Dallas, TX; Denver, Colorado; Indianapolis, IN; Las Vegas, NV; Los Angeles, CA; Miami, FL; Philadelphia, PA; San Antonio, TX; San Diego, CA; San Francisco, CA; San Jose, CA; Santa Clara, CA; and Tampa, FL.
Call a Federal Small Business SBA Lawyers
If you need guidance with finding federal contracts or help with SBA government contracting disputes, our small business government contracts lawyers can help. Contact us online to schedule a consultation with an SBA attorney in our law office. Call toll-free1-866-601-5518 for a FREE initial consultation.