Joint Venture Agreement Lawyers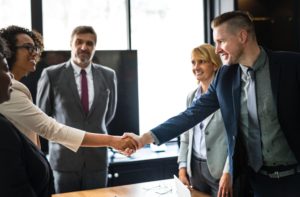 Are you a small business or DOD defense contractor worried about procurement fraud or SBA affiliation issues?

 Our team of joint venture lawyers is here to help you navigate the complex regulations surrounding SBA JV compliance under 13 C.F.R. § 125.8. We specialize in helping government contractors and small businesses avoid criminal liability for procurement fraud and stay on the right side of the law.

With our expertise, you can rest easy knowing that you're taking the necessary steps to protect your business and avoid costly legal battles. Our team has a proven track record of success in helping clients comply with SBA JV regulations and avoid the pitfalls of procurement fraud.

Don't wait until it's too late. Contact us today to schedule a consultation with one of our experienced joint venture agreement lawyers and get the peace of mind you deserve.
Watson & Associates, LLC small business joint venture agreement lawyers help small businesses throughout the United States to develop and comply with joint venture contracting relationships. Many of the joint venture arrangements fall within the purview of the SBA guidelines. More importantly, improper JV contracting relationships can lead to small business affiliation.
If an improper joint venture agreement is formed or contractors do not follow the limitations on subcontracting rules, the results can be disastrous, and the contract can be taken away. Drafting, developing and complying with federal JV contracting regulations are issues to keep companies away from criminal liability. Our attorneys can help.
Watson & Associates government contracts joint venture agreement attorneys provide comprehensive legal counsel concerning the structuring and negotiation of JV arrangements for upcoming procurements. In addition, our government contract small business attorneys have significant experience in the formation, compliance, and litigation of joint venture disputes involving federal government contracts. 
Benefits
Forming a joint venture agreement between two or more businesses can be an attractive way to join forces, pool resources and share profits in order to bid on government contracts. However, it is important for each party to understand the regulations and requirements of forming such a venture. That's why many companies turn to qualified attorneys and legal professionals who specialize in helping them navigate the complexities of federal rules and regulations when it comes to government joint ventures.
At the heart of a successful joint venture is an agreement that outlines each party's roles, responsibilities and financial commitments in the venture. A good joint venture agreement should cover all the basics, including ownership rights and percentage of profit, as well as details on management structure, operations and liabilities. It should also provide for dispute resolution if issues arise.
Mistakes to Avoid
When entering into joint venture agreements for government contracts, small businesses must be mindful not to violate anti-trust laws or make other missteps that could jeopardize their eligibility for government contracts. Companies must comply with the requisite workshares and should not make side contracts to avoid statutory compliance. This can result in procurement fraud and violation of 13 C.F.R. § 125.8. Avoiding issues like these requires working with knowledgeable and experienced attorneys who can guide the process and ensure that all applicable regulations are followed. Lastly, the specific language in the JV regulations must be followed or else the companies can be deemed affiliated.
Joint Venture Performance of work.
For any government contract set aside or reserved for small businesses that are to be performed by a joint venture between a small business protégé and its SBA-approved mentor authorized by 13 CFR 125.9, the joint venture must perform the applicable percentage of work required by 13 CFR 125.6 and the small business partner to the joint venture must perform at least 40% of the work performed by the joint venture.
Nationwide SBA Joint Venture Lawyer Services
As federal small business joint ventures attorneys we help to:
Draft JV contracting agreements tailored for your specific business;

Breach of joint venture agreement and Legal Counsel

Draft a JV template that focuses on avoiding SBA affiliation;

Assess the risks of JV contract relationships;

Analyze the new rules for substantive adjustments to the business entity structure;

Interpret SBA regulations and provide sound legal direction to participating companies;

Joint venture for construction projects

SBA OHA Appeals involving teaming and JV relationships
Government contract fraud with JV arrangements

SBA OIG and DOJ investigations involving joint ventures

Due diligence and JV partner agreement and accounting matters

Litigate disputes and allegations of affiliation, violation of the Ostensible Subcontractor Rule; and
Government Contracts Procedure and Appeal of adverse SBA decisions. See SBA Size Protests & Small Business Size Standard Appeals
When bidding on federal government contracts, the JV entity can use both company's past performance, share contract costs, and each company's resources. In addition, if qualifying in a Mentor Protege relationship, a mentor and their protégé can joint venture as a small business for any small business government contract, so long as the small protégé individually qualifies as small. The joint venture may also pursue any type of set-aside contract for which the protégé qualifies, including contracts set aside for 8(a), service-disabled veteran-owned, woman-owned, and HUBZone businesses.
SBA Joint Venture Agreement Regulations 13 C.F.R § 125.8
In addition to a legal agreement, it is also important for all parties to understand the government regulations that apply to joint ventures. The U.S. Small Business Administration (SBA) has specific rules and eligibility requirements for joint ventures taking part in federal contract work, known as 13 CFR 125.8 and 13 CFR 124.513. These regulations are often complex and can be difficult to interpret , but they are essential for companies to abide by in order to be eligible.
Having a knowledgeable joint venture attorney is a great way to ensure that all parties involved understand the rules and regulations, as well as the details of their agreement. A qualified attorney can help draft a contract that meets all legal requirements and provides clear guidance on how the venture will operate. They can also assist with dispute resolution and help negotiate any changes or modifications to the agreement. With their expertise and guidance, companies can feel confident that their joint venture will be successful.
Call Our SBA Joint Venture Agreement Lawyers 
If your company is seeking to avoid liability when involved in joint venture agreements and strategic alliances, needs help with joint venture contract due diligence and compliance with SBA JV contracting rules, or needs legal advice on building strategic alliances to acquire and perform joint venture government contracts, call our small business joint venture lawyers at Watson & Associates, LLC. all 1-866-601-5518 for a free initial consultation.