SBA size standards are sometimes forgotten until a competitor files a small business size protest after award of a government contract. As the successful awardee, you now have to defend the allegations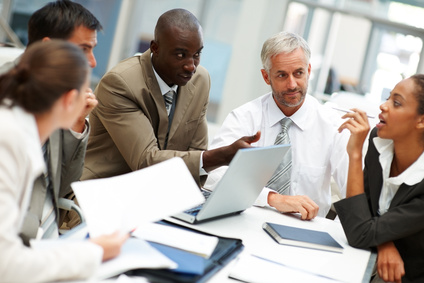 aggressively by intervening and responding to the SBA investigation.  On the other hand, as the unsuccessful offeror, deciding to file a size protest alleging a violation of the SBA's small business size standards needs you to respond to short deadlines.
In any event, understanding the laws governing SBA Size standards can be confusing. Given the quick turnaround times and the procedural aspects of litigation, getting the right legal help is very important.
With more than 30 years experience in government contracts law and with law offices in Washington, D.C. and Colorado, the government contract law attorneys at  Watson & Associates, LLC offer aggressive legal representation to small businesses across the United States. Whether seeking to defend against alleged violations of SBA size standards or compiling your case for filing an SBA size protest, Watson & Associates can help.  
Our clients come from various industry groups including construction, IT, medical and professional services and have varying business standard requirements for each NAICS code. See some of our favorable results. See our performance in a landmark appeal against SBA. See Size Appeal of Argus and Black, Inc. now cited by SBA OHA.
SBA Size Standards & Small Business Size Protest Attorney Services
Litigating SBA size standards and bid protest disputes involve a myriad of legal theories. Our NAICS code Size protest lawyers provide legal representation by:
Assessing the merits of each case;

Analyzing solicitation requirements to teaming relationships and bid responses

Providing help in responding to SBA size standards inquiries;

Preparing the size protest documents with legal sufficiency;

Preserving rights at the SBA level for potential appeal (you cannot bring up new issues on appeal to OHA).

Representing clients in size appeal cases to SBA OHA.
To speak with our government size protest attorneys  call 1-866-601-5518 for a FREE INITIAL CONSULTATION.
SBA Standards & Small Business Definition
Under SBA standards and procurement regulations, you have to be a small business to receive a government contract that is procured under the Small Business Set-Aside Program. The small business definition becomes a problem when the competition challenges your company to meet the SBA's size definition.
The SBA small business definition standard ( See SBA Website) is that your company  has to be a "..small business that is not dominant in the field of operation for which it is bidding on a government contract, in addition to qualifying as a small business under the criteria and size standards in Title 13, Code of Federal Regulations, part 121  (13 CFR 121). Size standards have been established for types of economic activity, or industry, generally under the North American Industry Classification System (NAICS). SBA's size regulations pertaining to federal procurement are also found in the Federal Acquisition Regulation, 48 CFR part 1.
Intervening in SBA Size Standards Protest Cases
Whether you are intervening into an existing case or filing a small business size protest alleging affiliation or violation of the Ostensible Subcontractor Rule, the ability to prevail depends on having a clear understanding of the various SBA size standards, regulations and case law that interprets them.
This is where most small businesses fail when not represented by experienced legal counsel.
Experience in the various legal theories
The law firm also represents small businesses in SBA size protest litigation under totality of the circumstances, SBA size protests based on common management, newly organized concern rule, Ostensible Subcontractor Rule,  meeting the small business definition by showing subcontractors performing primary and vital contract requirements; and identity of interest size appeal cases; size appeal protest cases based on mentor protégé affiliation; and defeating SBA size standards litigation  when rebutting legal presumptions by showing clear lines of fracture.
See our SBA size protest FAQs.
Note: When filing an SBA size standards bid protest, you must file within five days, not including Saturdays, Sundays and federal holidays. 
Nationwide SBA Size Protest and OHA Appeal Services
Our government contracts and SBA size protest attorney services cover federal contractors in all states regarding legal and non-legal matters. We assist federal small businesses and large DoD contractors in Alaska, Arizona, Arkansas, California, Colorado, Connecticut, Delaware, Florida, Georgia, Hawaii, Illinois, Indiana, Kansas, Louisiana, Maine, Maryland, Massachusetts, Michigan, Minnesota, Mississippi, Missouri, Montana, Nebraska, Nevada, New Hampshire, New Mexico, New York, North Carolina, Ohio, Oklahoma, Pennsylvania, Rhode Island, South Carolina, Tennessee, Texas, U.S. Virgin Islands, Utah, Vermont, Virginia, Washington, Washington, DC, West Virginia, Wisconsin, and Wyoming. 
Cities in which our small business size protest and OHA appeal attorneys assist federal government contractors include Anchorage, AK; Atlanta, GA; Austin, TX; Chicago, IL; Colorado Springs, CO; Dallas, TX; Denver, Colorado; Indianapolis, IN; Las Vegas, NV; Los Angeles, CA; Miami, FL; Philadelphia, PA; San Antonio, TX; San Diego, CA; San Francisco, CA; San Jose, CA; Santa Clara, CA; and Tampa, FL.
Call Our SBA Small Business Size Standards Protest Lawyers
Call us if you need experienced legal advocates to help you avoid the costly legal landmines with SBA size standards. We aggressively litigate to make sure the SBA's small business definition and that the legal requirements are met. On appeal, the law firm litigates SBA size determinations, affiliation decisions, NAICs violations, and small business size standard violations.  Call our government small business lawyers at 1-866-601-5518 to schedule a FREE Initial Consultation.
More Information About SBA Size Standards and NAICS Code Size Protests
Learn About The Deadliest Mistakes Made When Hiring Incumbent Personnel Under the Ostensible Subcontractor Rule.
Find out what date counts for SBA size standards.
Learn about SBA size protests and NAICS code  litigation and the Process.
Find out about HUBZone Price Preference When Bidding. 
Learn more about our SBA HUBZone certification services
Call our NAICS Code Size protest lawyers today for help with SBA small business size standards and small business size protest litigation.