Government Contract Lawyers Litigating Appellate Jurisdiction Cases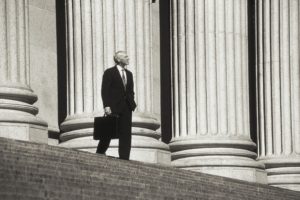 When appealing federal government contracting cases, a common dispute arises as to whether there is appellate jurisdiction before the appeals court. Usually, the central issue to create jurisdiction are actions or inaction at the agency level. Appellate courts cannot hear cases unless the plaintiff of appellant can demonstrate that there is subject matter jurisdiction. 
At Watson & Associates, LLC an appellate attorney can assess the merits of your appeal to decide whether the court has jurisdiction. Appellate courts that the firm practices before include:
The Armed Services Board of Contract Appeals ( ASBCA)

Civilian Board of Contract Appeals (CBCA)  

U.S. Court of Federal Claims (COFC)

U.S. Court of Appeals for the Federal Circuit
Appellate Jurisdiction in Federal Government Contracting
Establishing appellate jurisdiction in a government contracts case can be somewhat difficult. Usually, it is the agency attorney who will file a motion for lack of jurisdiction to the appeals court. As a result, the appellant will have to draft a brief to support its position and convince the court. Appellate jurisdiction of the boards of contract appeals and the Court of Federal Claims are commonplace. At Watson & Associates, LLC we assign you an appellate attorney that understands the underlying principles and procurement regulations. 
Avoid getting your case thrown out when the government's decision is adverse.

Our appellate attorneys fight to prevent substantial loss and even company revenues.

The law firm litigates cases at the appellate courts involving SBA small business matters, Contract Disputes Act case and Tucker Act and bid protest appeals.
Help With Appellate Briefs
When litigation appellate jurisdiction disputes in federal procurement and government contracting cases, each situation is different. Sometimes, the outcome can depend on facts as they occurred at the agency level. As appeal lawyers we help our clients or their corporate counsel to develop the facts and legal arguments in the appellate brief to the court.
Procurement cases by appellate courts are decided by federal judges at the Court of Federal Claims and U.S. Court of Appeals for the Federal Circuit and by administrative judges at the ASBCA and CBCA. The Watson law firm helps you from the initial notice of appeal, drafting the letter of appeal and the formal complaint to the court.
Overseas and Nationwide Appeals Litigation for Federal Contractors
If your case is suspended or intercepted by the government's attorney due to lack of appellate jurisdiction, our government contract appellate attorneys can help. We represent small businesses and federal contractors throughout the United States. The law firm also represents companies in Turkey, Dubai contractors with US government contracts, Afghanistan and Saudi Arabia.
Contact a Government Contracts Appellate Attorney
For immediate help in cases with appellate briefs or involving appellate jurisdiction to the boards of contract appeals or the U.S. Court of Federal Claims, please contact us for a FREE Initial consultation at 1-866-601-5518.