Denver Commercial Law Lawyers
We provide  straight-talk and aggressive defense for our commercial clients. As A Defendant, You Can Assess the Weaknesses of Plaintiff's Case to Strengthen Your Defense. Free Initial Consultation. 720.0941-7200.
Whether you are a new Colorado business, small or large, you will at some time experience a business dispute involving Colorado commercial law.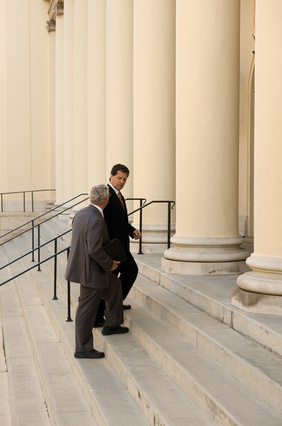 Whether it is a claim for breach of contract law damages, an expectation for delivery under the Uniform Commercial Code (UCC) or some other commercial contract dispute, the best approach is always to resolve matters before resorting to litigation and trial.
Get legal representation at a fraction of what larger firms charge

Better adjust your company contracts to meet UCC requirements

Get direct access to an attorney

We approach commercial litigation disputes as though every case is going before a judge or jury

Get to the heart of the problem the most effective manner without taking shortcuts.
Commercial Litigation Practice
Breach of contract

Commercial leases

Commercial real estate transactional

Partnership disputes

Equipment or real estate lease disputes

Federal government contracts
To find out more about how we can help, speak to one of our litigation practice members at 720-941-7200.
What is the best Approach to defending your case? When defending a commercial lawsuit, the best approach is to first find the strengths and weaknesses of your case. The opposing side has filed a case based upon the burden of proof that the law requires.
Defending your case means first understanding the allegations claimed and find both the strengths for your defense and the weaknesses on the other side. Without this approach, defendants often find themselves at risk in a lawsuit.
What if the other side has a strong case? Filing a commercial lawsuit first means that the plaintiff could have a prima facie showing that the case should go forward. However, the law allows certain legal defenses that you must explore.
If you have a viable legal defense, then regardless of how good the complaint is, you still have a chance to successfully win the lawsuit.
However, if the plaintiff's case is substantially strong, and you run the risk of not having a viable legal defense, you have the option to try to settle the matter. This can save tens of thousands in litigation cost.
How do you prepare for litigation? For each case, the parties should gather as much evidence as possible to support their position. If you are involved in complex commercial litigation, the discovery process can further reveal the strengths and weaknesses of your case and the other side. Stating your position on court documents is one thing. However, having actual evidence to support it makes the difference in winning of losing.
What are the disadvantages of litigating?
In litigation practice, court cases are generally published. Corporations or individuals like to stay away from being in the news or media. Potential customers normally look up businesses that consider building relationships with.
Regardless of the outcome of any litigation, there might be a chance that they may stay away. This is not to say that if you have a strong defense to a lawsuit that you should settle. Each commercial litigation attorney can help corporate executives to look at the pros and cons in each case.
Do you know your rights under UCC contract law? Companies that sell commercial products may be subject to the UCC but do not understand their legal rights, if there is a breach of contract or failure to deliver or manufacture a specific item for a particular purpose.  understanding the legal terms of contract agreement can give you a better understanding of how strong your defense will be.
What is the cost of litigation? As a defendant in a commercial lawsuit, if the plaintiff is seeking monetary damages, and the risk of having a strong defense is low, the cost means that you can end up paying your defense attorney representation fees.
If you are in a breach of contract dispute which has an"attorney fee" clause, then if you do not prevail, you will also have to pay the other side's fees. The cost of a lawsuit can be tens of thousands of dollars not including what the plaintiff seeks as damages. 
Get mediation & arbitration representation: At Watson & Associates, our defense lawyers help clients to navigate through the complex rules and regulations. We help contracting parties to resolve matters through mediation or arbitration, interpret commercial statutes, and provide the legal advice to resolve pending disputes.
Personalized legal advice: A commercial litigator at Watson & Associates, LLC provide personalized legal advice and litigation support to businesses throughout the Denver metro areas. Our business litigation practice areas include UCC contracts, prime and subcontractor relationships, breach of contract disputes, commercial transactions and commercial litigation support.
We understand that when corporations have a legal problem, they want a lawyer and litigator that can quickly get to the source of the problem and provide legal advice that minimizes expensive litigation.  
We understand that importance of cost-effective problem solving and building business relationships based on trust and integrity. 

Our Denver commercial litigation lawyers frequently provide legal advice and representation to Colorado businesses in a wide variety of industry groups.
Strategic Legal Planning to Avoid Costly Mistakes in Commercial Law
One of our strengths is to provide businesses with proactive legal advice. Our Denver commercial lawyers help companies to review their internal policies and controls for potential liability and exposure to civil litigation. We also review how businesses are handling commercial transactions and recommend improved strategic planning advice.
Simple Contract Law and Complex Commercial Disputes: Companies come to our commercial law lawyers to draft their business contracts and revamp old contractual agreements. This allows clients to stay current with recent commercial law and avoid liability due to breach of contract allegations.
Complex UCC contract and commercial transactions: Watson's commercial litigator provides guidance when disputes arise. We help by assessing the legal merits, strengths, and weaknesses in commercial litigation cases, and provide corporate executives with possible solutions that can effectively resolve contract law disputes.
Aggressive legal support: Although our company law firm and defense attorneys focus on resolving disputes short of lawsuits and expensive trials, we aggressively represent our business clients in Colorado courts. 
Call a Colorado Commercial Law Defense Attorneys for Immediate Help
To get cost-effective legal solutions to commercial litigation and commercial contract law disputes, call Watson's defense attorneys for immediate help. We offer a FREE Confidential Initial Consultation. Call 720-941-7200.
Additional Commercial Law Information
Call Watson's Denver commercial law lawyers today.