Whistleblower Defense False Claims Act Defense Lawyers :: Investigations and Violations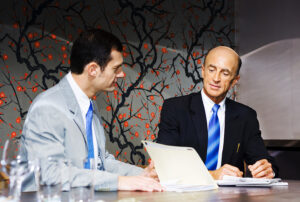 Nationwide False Claims Investigation Lawyers: False Claims Act (FCA) enforcement poses a significant and growing threat to government contractors corporations and institutions. If you are found liable or guilty, the experience can be significant including jail time and public exposure. This can have a significant impact on all of your hard years of work. When whistleblowers and the U.S. Department of Justice (DOJ) come after you with their allegations, they do so aggressively. Therefore, to defend yourself, you must do so aggressively and early in the process.
Watson & Associates, LLC Whistleblower False Claims Act lawyers represent federal government contractors facing civil or criminal charges. We are gaining a reputation as the go-to FCA defense law firm for companies charged with violating small business and SBA regulations, Buy American Act BAA compliance violations, investigations; Trade Agreements Act TAA compliance investigations and allegations and more. This is critical because federal prosecutors first find an underlying charge before translating the behavior into a false claims charge to monetize and criminalize the action. Our law firm helps to respond to investigations and litigate lawsuits by the government or whistleblowers.
False Claims Act Investigation Attorney
We are experienced in defending and responding to False Claims Act investigations initiated by the DOJ, State Attorneys General, and whistleblower lawsuits. As False Claims Act investigation attorneys, we defend government contractors from investigation or potential fraud charges when they have submitted a claim for payment that is false. This includes claims made directly to a federal agency or under a contract with one.
Our FCA violation attorneys understand how intense and serious False Claims Act investigations can be and are prepared to effectively defend clients. Our experienced attorneys have a foundation of knowledge in government contracting law, the False Claims Act, and other related laws. We provide proactive advice to help prevent potential violations by advising our clients on what is required for compliance with the law. 
What is the Penalty for Violating the False Claims Act?
The. Act carries severe penalties for each False Claims Act violation. Depending on the severity of the violation, individuals or entities found liable can face up to three times the amount of the government's damages, plus civil penalties from $5,500 to $11,000 per false claim. Fines can quickly add up and total in the millions when claims are numerous. In addition, there can be criminal penalties of up to five years in prison and exclusion from participating in federally funded programs. 
We understand the seriousness of facing FCA charges or investigations, which is why we provide swift legal representation to help defend your rights and interests. Our False Claims Act defense attorneys strive to resolve cases quickly with minimal interruption to
Experienced Federal Procurement Attorneys
When clients retain our legal defense team, we develop a tailored group of legal professionals that deals specifically with your type of case. We work with local criminal defense lawyers and use our decades of experience in federal government contracting to collectively develop a mounting legal defense early in the case.
When you retain our law firm, we will work directly with federal agencies, and help you respond to subpoenas and civil investigative demands. Our goal is to get current charges dismissed or to minimize the impact on your reputation and business future.
Federal Whistleblower Defense Lawyers
Whistleblower Defense Lawyers at Theodore Watson have a wide range of experience representing individuals in False Claims Act matters and are dedicated to protecting the rights of whistleblowers. We will find out the facts, develop strategies, and work with you to obtain favorable outcomes. Our team of experienced attorneys will help guide you through every step of the process.
We understand that Whistleblower False Claims Act cases can be complex. We are knowledgeable about the law, and have a thorough understanding of what it takes to protect your rights. Our whistleblower defense attorneys will provide you with experienced counsel and aggressive representation in civil and criminal cases as well as retaliation cases. We will work closely with you to help ensure that your case is handled in a comprehensive, professional manner.
What is a Legal Defense to Criminal False Claims Act Charges?
A legal defense to criminal false claims act charges is when a defendant asserts that they lacked the intent or knowledge required to be found guilty of violating the False Claims Act. The government must prove beyond a reasonable doubt that the accused person had "scienter," which is another term for intent or knowledge. If the accused can demonstrate either lack of intent or lack of knowledge, then they may be able to successfully prove a legal defense.
Contact Our Defense False Claims Act Lawyers Today
Theodore Watson LLC is a team of leading False Claims Act lawyers. Our attorneys have experience defending clients in FCA investigations and can provide you with the legal counsel and advice you need to navigate the process. If you or your company have been contacted by federal investigators, do not hesitate to contact us as soon as possible. Call 1.866.601.5518 for a Free Initial Consultation.