Government Contracts Attorney Profiles
At the law firm of Watson & Associates, LLC our team of Federal Government Contract Attorneys, and Colorado business law attorneys have a unique combination of backgrounds and experience to manage your case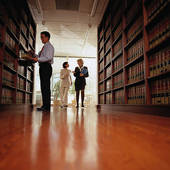 through to successful completion. We are consistently seeking out new talent with diverse backgrounds to give you a competitive edge in federal government procurement.
Our attorneys brainstorm with each other to resolve problems
Each case gets more than one set of eyes – this creates value in resolving adverse actions
All attorneys know that going through unnecessary litigation is the last thing our clients want
Our law offices are located in Washington, DC and Colorado. Providing sound legal advice and building trusting and long-lasting relationships are the backbone of the practice.
Theodore P. Watson
Theodore P. Watson, Esq is the Founder and managing member of Watson & Associates, LLC. Mr. Watson handles business and corporate law; contract law and litigation; government contract law; and employment law issues. As a retired Air Force member, Mr. Watson's many years of experience as a federal contracting and small business official working for the U.S. government give clients a significant advantage and brings a unique perspective to the table— especially when doing business with the federal government.
He is known for aggressive representation in government contracting and protection of small business rights in fraud, improper prime and subcontracting relationships, False Claims and other contractor relationships. In addition, to provide strategic executive-level advice, his goal is to provide clients with sound direction, and aggressive representation and to build trusting relationships. His broad spectrum of real-world experience also enhances Mr. Watson's diverse skill set. Full bio… 
Wojciech Kornacki 
Wojciech Kornacki practices in the areas of agency-level and GAO bid protests, federal contract compliance, and Boards of Contract Appeals litigation. He counsels and trains clients on the latest legislative and legal developments in the areas of bid protests, claims and appeals, agency debarments, cybersecurity, and Trade Agreements Act compliance, among other matters. Additional experience in export controls including ITAR  and defense articles. Full Bio…
Government contractors across the country and Colorado businesses rely on the team's expertise in order to make sound decisions. We believe in building trusting relationships and being honest and up front with our clients.
Contact us for immediate assistance at (866) 601 -5518. or our Washington, DC office at 202.827-9750.