Federal Suspension and Debarment Defense Lawyers Helping Government Contractors Nationwide.
Call 1-866-601-5518. Free Initial Consultation.
Government contractors facing suspension and debarment efforts under FAR 9.4 by the federal government can potentially face serious consequences against the company. Suspension and debarment can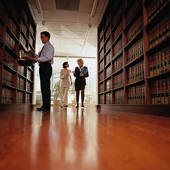 also personally impact corporate executives personally. This is especially true if the business owner has been charged or indicted for a crime.
We offer:
Prompt response and turnaround

Legal help for a fraction of the cost of larger law firms

Detailed assessment and response to debarring officials

Attendance at hearings

Suspension and debarment participation agreements
Help for contractors nationwide: With law offices in Washington DC and Colorado, the federal suspension and debarment lawyers at Watson & Associates, LLC frequently help federal government contractors to navigate through the hurdles associated with being placed on the federal debarment list. See some of our representative cases.
Immediate impact to your company: If your company has been proposed for suspension or debarment, your response to the agency is critical to the outcome. Immediately after your company receives a proposed federal debarment or suspension notice, the company is ineligible to receive future federal government contracts.
The law firm is geographically positioned to help small business and large DOD contractors to minimize the impact of debarment and suspension actions under FAR 9.4. Our goal is to help our clients maintain their federal government contractor status and to avoid being added to the excluded parties /suspension and debarment list.
Government Suspension and Debarment Legal Services
Investigate the facts surrounding suspension and debarment actions

Prepare and file detailed responses to the debarring official

Appear with clients before the suspension and debarment panel

Negotiation of alternatives besides placement on the suspension and debarment list

Providing assistance to criminal defense lawyers

Developing internal policies and controls

Prepare and oversee administrative agreements
To speak in confidence with a federal suspension and debarment lawyer, call Toll Free 1-866-601-5518. 
Practice area attorneys: Wojciech Z. Kornacki    Jeana Mushriqui
Government Debarment List – Debarred Meaning & Definition
Being places on the federal suspension and debarment list means that a contractor or individual is prohibited from doing business with the federal government for a specific period of time. Under the debarment meaning and definition, the preclusion is for not more than 3 years.
The regulations suggest that contracting officers should not debar contractors as a means of punishment. Each case is decided on its own merits by the debarring official.
Contractor Suspension Meaning & Definition
When a federal agency issues a proposes that a contractor to be placed on the suspension and debarment list, it means that the contract is ineligible and temporarily suspended from receiving, bidding on, and even performing on any government contract or grants.
Suspension means sometimes waiting for the outcome of a pending investigation or some other administrative or criminal proceeding.
When companies face suspension under FAR 9.4, the contractor is temporarily suspended for up to 18 months while they wait for the conclusion of an agency action or government investigation.  
FAR 9.4 Suspension and Debarment Process
Federal debarment and suspension actions under FAR 9.4 start with the agency notice to the contractor or individual. After receiving the notice, you can submit a written response or appear in person. You have 30 days after receipt to respond in writing. When preparing a response to a suspension or debarment notice, building the record with the right approach is critical.
There are certain issues that you must address.

There are also certain strategies that you want to stay away from.
Suspension and debarment regulations not intended to punish companies: Government contractors are placed on the federal suspension and debarment because the agency believes that the company is not responsible. This could relate to management issues. Often, companies or executives are charged with allegations of criminal conduct including False Claims Act violations under 31 USC 3729, procurement fraud and other related activities.
In some situations, the government may suspend or debar a contractor for criminal activity that leads to business honesty, failure to pay minimum wage, violation of environmental laws and more. Suspension and debarment actions should not be used simply to punish contractors.
What are Reasons to Debar or Suspend Government Contractors?
There are several reasons to debar and suspend government contractors or individuals from doing business with the federal government. If companies or their officers commit fraud, are liable for embezzlement charges, bribery, theft, falsification or destruction of records, making false statements or material misrepresentations to the government, tax violation and tax evasion, violation of federal criminal law, found to have committed an unfair trade practice or even receiving stolen property. These are all reasons where the government can debar or suspend federal contractors.
Legal defense from criminal allegations: Federal Suspension and debarment list actions often arise from underlying actions from False Claims Act violations, Anti-Kickback Statute violations, selling defective products to the government, or even violations of the Buy America Act. 
Our suspension and debarment lawyers provide legal support for criminal defense lawyers that are not familiar with the applicable government contracting laws.
What are Your Options? If you have received a suspension or debarment letter, you can respond to the Suspension and Debarment Official (SDO) before a final decision is made. The response is crucial and any allegations as to why the action should not occur should be supported with credible evidence.
The goal is to show that the company or individual is responsible and should still be allowed to do business with the federal government. Having someone that understands the suspension and debarment process can benefit and potentially help the company's future. 
Call our Washington DC Government Suspension and Debarment Lawyers
To avoid ruining your company's future in government contracting and to protect against agencies debarring your company, contact the federal suspension and debarment list lawyers at the law firm of Watson & Associates toll-free at 866-601-5518 or call our Washington, D. C. Office at 202-827-9750. 
Additional contractor Information
Learn important tips when defending and responding to contractor suspension / debarment actions. 
Read more about Administrative Agreements During Suspension or Debarment.
See how FAR 9.4 Debarment meaning can impact negotiations or end result.