Federal Government Contracting Training Courses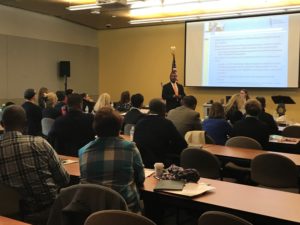 Watson & Associates provides in-depth and high-level federal government contracting training courses for small businesses and large defense contractors seeking to improve their success in compliance, risk mitigation and ultimately becoming successful with government contracts. Companies that want to redesign their effectiveness with how to get government contracts frequently come to our training development and proposal writing classes.
With over thirty years of actual federal procurement experience and our day-to-day handling of legal issues in government contracting, our clients have developed long-termed relationships by coming to our federal contract training classes.
Proposal training for government contractors not seeing the results in their current efforts.
Watson & Associates provides substantive proposal training classes that actually focus on strategies that help the federal agencies to seriously look at your proposal for selection.
This level of government contracting training seminars and courses can substantially increase how you approach bidding on upcoming requirements. Thus, leading to increased revenues.
See below for a list of federal government contracting courses that we offer. Attending these classes can get better results for your company. Click here for a list of dates for our proposal training classes.
About the Instructors:
Theodore Watson and the firm's staff provide in-depth training in the various modules of our federal government contracting courses. Having served as a government small business executive for DOD, our team has propelled the law firm's government contracts practice to being more than just lawyers. "There is a serious deficiency for knowledge throughout the United States. Government contractors are at a serious disadvantage and must understand more than just the generic training information currently out there."
Government Contracts Course Locations
Our federal government contracting courses and workshops are for:
Bidding Managers and Support Staff

Small Businesses Seeking to Acquire More Government Contracts

Contractors Seeking to Avoid Adverse Actions

Project Managers Seeking to Improve Management and Compliance Practices

Business Development Specialists

Management and Executives
If you want to combine a list of on-site workshops for your staff, Theodore Watson can arrange for tailored federal government contracting training classes to suit your company.
Proposal Writing Training Classes
Many companies are continuing to fail at the bidding phase to convince the government to award the contract. Watson's government proposal writing training classes offer proven strategies to your technical proposal approach and with a focus on how to improve your chances of getting an award.
Sign up for our proposal writing training classes here.
Federal Contracting  Training Courses for Marketing to the Federal Government
Learn how to stop wasting marketing resources.  Develop a capture management strategy to get better results. We have designed our federal government contracting training course to show you how the federal market is set up; learn what the agency wants to see in your marketing efforts.
Contract Compliance and Termination Avoidance
Learn how to develop contract compliance policies that keep you out of trouble. Avoid termination for default and successfully handle terminations for convenience. This level of federal contracting classes can significantly impact your success and project performance.
Bid Protests – How to Effectively Avoid or Prepare for Them
These government contracting training courses focus on developing sound strategies on how to file, prepare or defend government contract protests.
Please note that we do not offer information about specific cases that our attorneys have litigated. Our training is primarily focused on how to comply with your specific solicitation requirements in a way that minimizes the impact in the event that your bid is protested.
Joint Ventures and Teaming Agreements Training
These government contract training seminars and courses teach you how to effectively structure and use teaming agreements and joint ventures. Avoid common mistakes that can cost you your contract. Read more.
Government Contract Claims
Learn how to effectively prepare and file government contract claims and meet the Contract Disputes Act requirements.
SBA 8(a) Certification Preparation Training
Learn how to effectively prepare and submit your application for 8(a) certification.
Success in the 8(a) Program
If you are 8(a) certified, our federal contracting classes teach you how to implement successful strategies for success. Many small businesses have been in the 8(a) Program, but have yet to receive a decent sized contract.
Discounts are available for two attendees from the same corporation.
The Workshops are Intensive programs on the latest trends in government contracting from the bidding stages to terminations.
The Instructors are Procurement legal and consulting experts that physically see costly mistakes made by contractors on a daily basis.
The Instructional Method is a Balanced combination of lecture, discussion, and hands-on practice.
The firm has developed a government contracts training system so that contractor employees can get a realistic understanding of the problems and liability that they face, how to handle and minimize adverse actions.